Norah McEllistrim – a genuine animal lover, a great trainer and a highly-respected ambassador for the sport!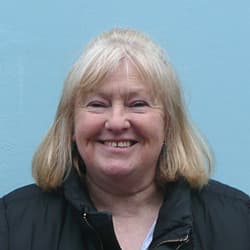 NORAH MCELLISTRIM: A great trainer and the recipient of the 2011 Greyhound Writers' Association Harry Lloyd Services To Greyhound Racing award.
p

NORAH MCELLISTRIM, 76, a fully-fledged handler for almost fifty years after succeeding her father Paddy in 1974, is one of the most popular characters in the sport and renowned for her prowess with hurdlers, most notably the great Bobcol.
p
"Bobcol was easily the beat hurdler that I trained, he had some fantastic duels with Dine Out, who had the edge on him at Wimbledon," said McEllistrim. "However, the 500 metres hurdles at White City played much more to the strengths of Bobcol."
p
McEllistrim, whose family hailed from Ballymacelligott, near Tralee, in Ireland, can be rated alongside Linda Jones and Linda Mullins as one of the most successful female trainers in the history of greyhound racing.
p
Her late-father Paddy McEllistrim, who died in 1976 and was affectionately known in greyhound racing circles as "Paddymac", was Wimbledon's first trainer when the track first opened its doors to the public in May, 1928, and he enjoyed a big reputation as a trainer of hurdlers.
p
"Paddymac" won the Wimbledon Gold Cup – the sport's most prestigious jumps race apart from the Grand National - six times and legendary Sporting Life tipster Reg Potter once described him as "the most popular man in the sport whom many people believe as being the greatest trainer ever."
p
Setting a record which will almost certainly never be matched, he bridged a 41-year gap by landing the St Leger for a second time in 1970 with Spotted Rory after initially landing the stayer's classic with Loughnagre in 1929.
p
Norah McEllistrim was joining elite company in the training ranks at Wimbledon, as her new colleagues were Nora Gleeson, Paddy McEvoy, Clare Orton, Phil Rees and Sam Sykes while Hugh Richardson, ably assisted by Colin Betteridge, were at the helm in the racing office at Plough Lane.
p
In February, 1976, McEllistrim was at the centre of a dramatic story before World of Sport's ITV cameras, as the last-flight fall of the brilliant Stuart Captain, the new greyhound racing hurdling sensation, handed the race on a plate to her Right Spirit in the Skol Lager Invitation Hurdles at Harringay.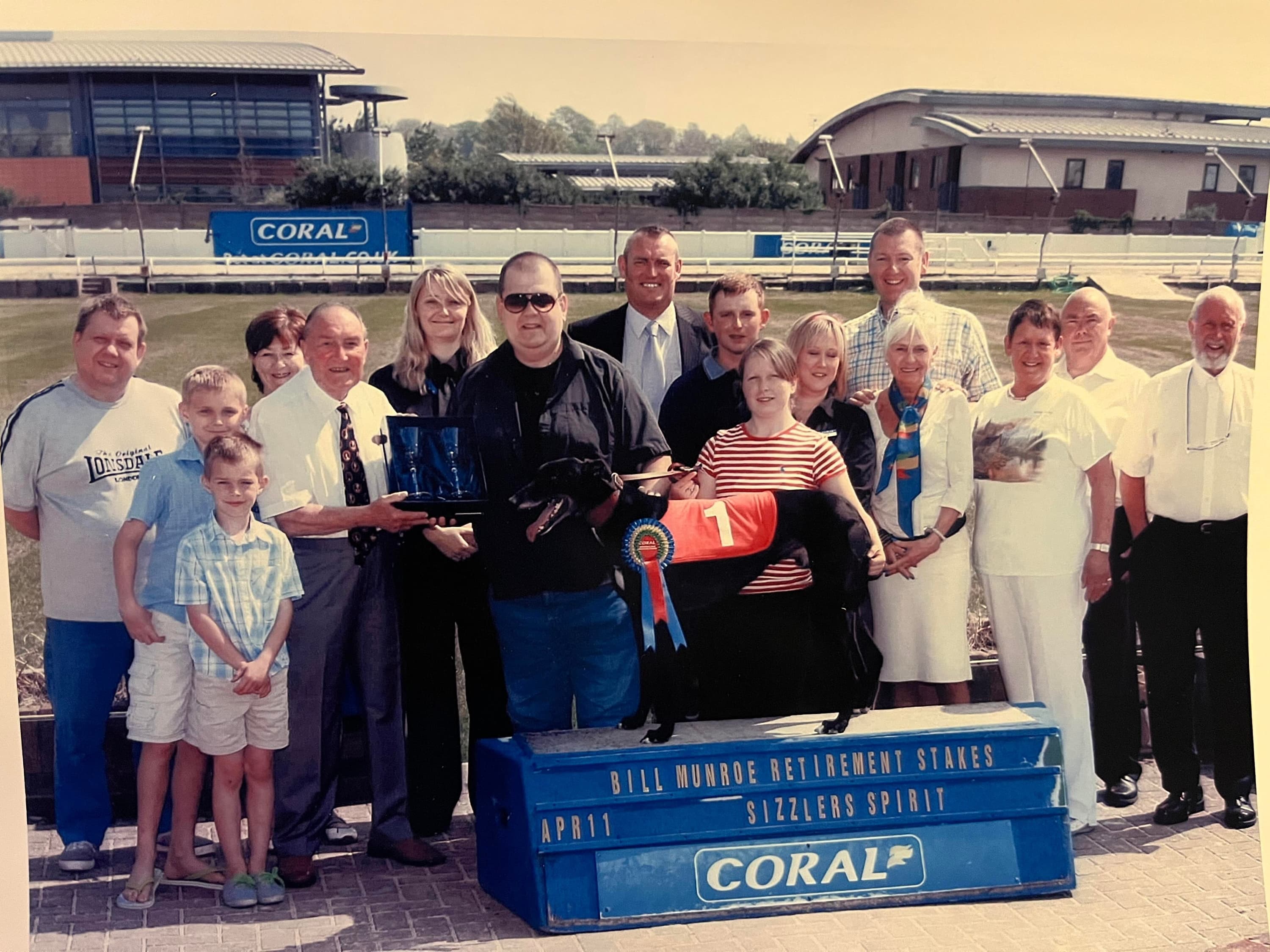 SIZZLERS SPIRIT: The Norah McEllistrim kennel has always been synonymous with top-flight hurdlers and this spring-heeled jumper compiled a fantastic record in 515-metre hurdles opens at Hove.
p
Ladbrokes director Ron Pollard said afterwards: "I reckon that the fall cost punters £100,000 with our company alone and that means about £ 1/2 m with bookmakers around the country."
p
She had a great affinity with hurdles racing and trained a fleet of outstanding jumpers, including Razor Edge (National Hurdle), Raybet (National Hurdle), Bobcol (Springbok, Grand National and Scottish Grand National), Face The Mutt (Grand National & Scottish Grand National), Monarch Tom (Christmas Vase, twice), Knight Of Raft (Springbok), Ranger Supreme (Springbok) and Sizzlers Spirit (National Hurdle)..
p
The Arnold Felby-owned Bobcol, a tight railer, overcame heavy going on the rails to complete an undefeated run through the 1981 Grand National at White City after sustaining a hip injury the previous season and he was acclaimed as one of the outstanding all-time great hurdlers when dominating the division during a golden era.
p
"I absolutely loved Arnold, he was a great character of a lovely period in the sport," said McEllistrim. "I remember us hiring a small plane at late notice to transport Bobcol to Powderhall to a famous win in the final of the Scottish Grand National."
p
McEllistrim made two appearances in the prestigious one-off Trainers' Championship fixture – Walthamstow (1985) and Sittingbourne (1998) – and she always rated the brilliantly-fast Awbeg Ball, winner of the Midland Flat Championship at Hall Green and a semi-finalist in the 1992 Greyhound Derby at Wimbledon, as one of the fastest greyhounds she trained.
p
"Awbeg Ball, who won a competition over 525 yards at Lifford two years running, was definitely one of the fastest middle-distance greyhounds I've trained," said McEllistrim. "The night he broke down when leading off the last bend in the semis of the Greyhound Derby was a sickening blow to the kennel – he was one of my favourite dogs."
p
One To Note, the Harringay 272m track record holder and winner of the 1985 Derby Consolation at White City, was a sprinter of the absolute highest class and his rivalry with the equally brilliant Daleys Gold illuminated the open-race scene in the mid-1980s.
p
"One To Note, owned by John Fitzgerald, a Camden Town publican, was the fastest greyhound I've trained and, with better fortune, he was good enough to win the 1985 Greyhound Derby at Wimbledon, added McEllistrim. "He clashed at the third bend with Daleys Gold and, alas, he subsequently broke his hock in the Scurry Gold Cup at Slough and had to be retired."
p
Lenson Billy, owned by Len Ponder, was perhaps the most talented competition greyhound handled by McEllistrim and the June 95 black achieved big-race successes in the Peterborough Puppy Derby, Greenwich Cup, Essex Vase and Gold Collar.
p
"Mary [Pledge, kennelhand] used to parade him, and he was top-class over a variety of distances," said McEllistrim. "He was also runner-up (twice) in the Champion Stakes at Romford – he was a brilliant greyhound."
p
One of her finest training achievements came in the 2002 Oaks final at Wimbledon when Purley Queen, who competed in A6 grade just a few weeks earlier, accounted for Simply Vintage, Knockeevan Hollie, Armani Pearl, Southlodge Rage and Purely Belter.
p
McEllistrim said: "Purley Queen was a very good little bitch, she was running in A6 grade at Wimbledon following injuries and it was a fantastic achievement winning the Oaks with her."
p
In 2009, McEllistrim, who the previous year was elected over Brian Clemenson and Carol Grasso for the GTA chair, joined the board of directors at the Greyhound Board of Great Britain as racing practitioner and her unstinting voluntary work for the RGT was lauded within the industry.
p
McEllistrim gained deserved recognition for a lifetime involvement in greyhound racing when she was the recipient of the 2011 Greyhound Writers' Association Harry Lloyd Services to Greyhound Racing award.
p
In March, 2012, McEllistrim, whose long-time partner Brian Harrison is a highly successful Greyhound Sales organiser, vacated her beloved Wimbledon after a 38-year association with the Plough Lane venue to replace the departing Brian Clemenson at Hove.
p
McEllistrim, whose most recent biggest success came via Ballymac Marine in the Romford Puppy Cup seven years ago, has won a host of the sport's top prizes with Aulton Henri (Golden Sprint), Munroe Zulu (Oxfordshire Stakes), Gara Paint (Trafalgar Cup), Coolavanny Rock (Summer Cup) and Rathglass Hero (Coronation Cup) and Kizi (Silver Salver).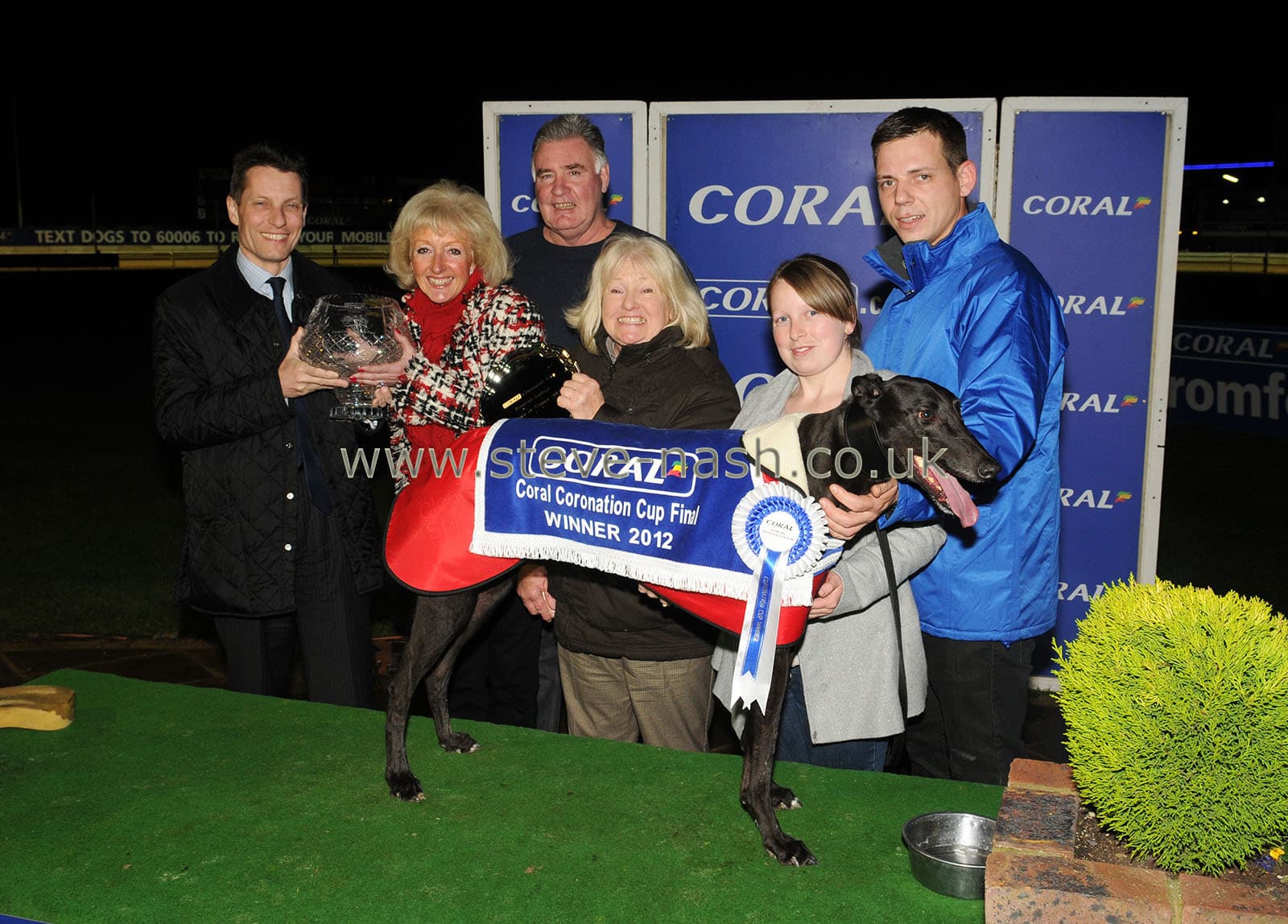 RATHGLASS HERO: The August '08 black dog turned up trumps at 16-1 in the final of the 2012 Coronation Cup over 575 metres at Romford.
p
"Ballymac Marine was a brilliant winner of the Romford Puppy Cup," said McEllistrim. "He was potentially right out of the top drawer – we had high hopes for him for the Greyhound Derby at Wimbledon until injury intervened."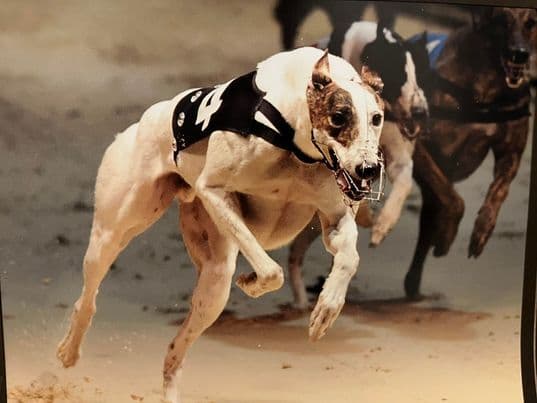 BALLYMAC MARINE: He stamped himself one of the top juveniles in training when trapping out in front and making all the running in the final of the 2013 Puppy Cup (400 metres) at Romford.
p
The bubbly McEllisttrim freely admits that the success of a greyhound kennel and she has been ably assisted by Mary Pledge 'she's been here since 1974'), Dawn Hillier ('looks after our retired greyhounds'), Julie Hillier, Gemma Byford (assistant trainer), Kate Aris and Tim Rowell.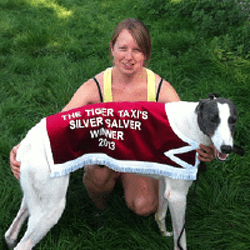 GEMMA BYFORD: A past winner of the Kennelhand of the Year accolade, she is assistant trainer and worked at the kennels all of her life and has been a key figure since joining full-time in 2004.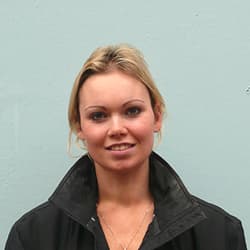 KATE ARIS: She joined the Norah McEllistrim team in 2005 and cites the victory of Miss Sporty in the final of the Puppy Oaks at Wimbledon in 2005 as the racing highlight of her career.
p