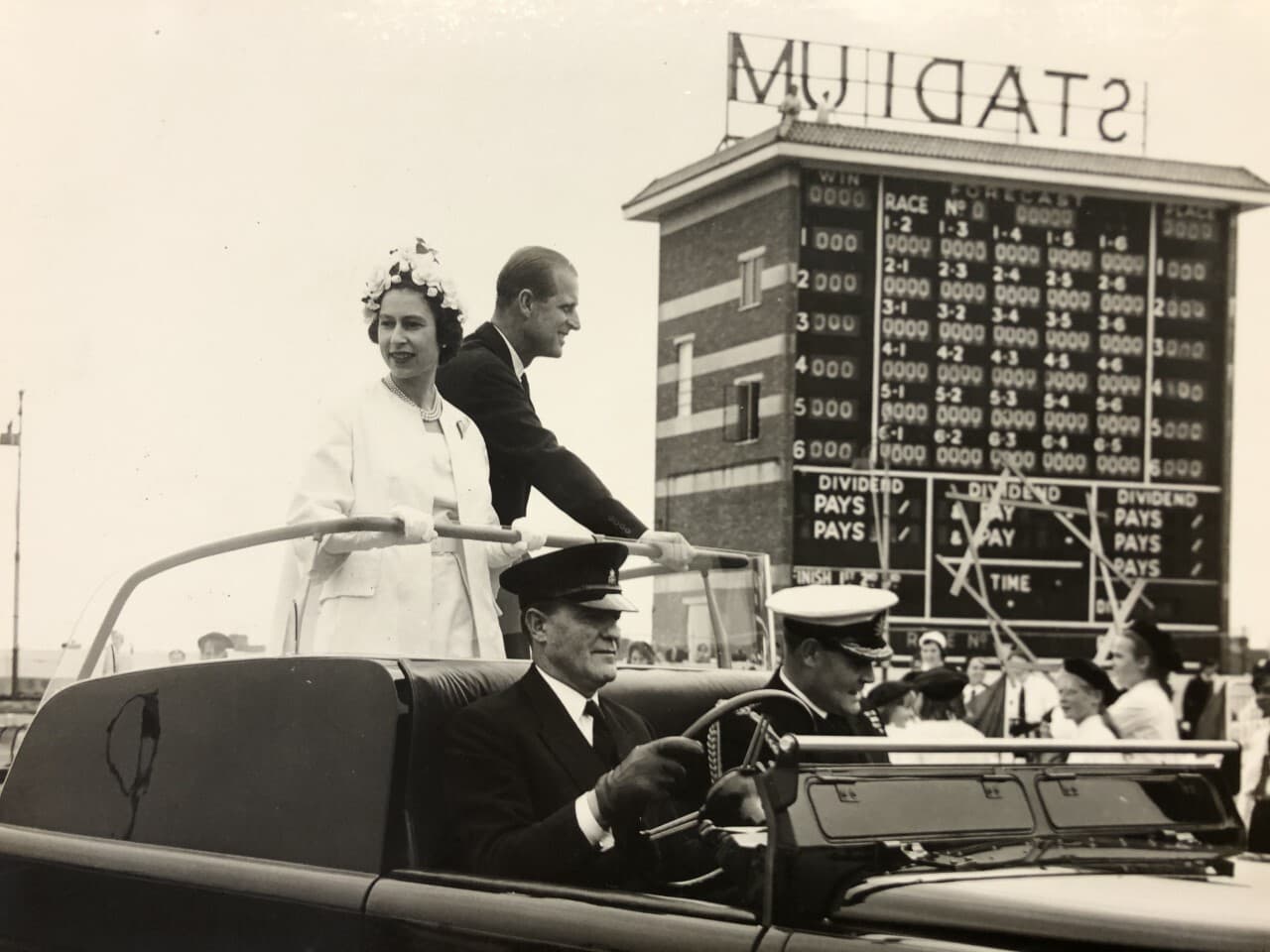 Saturday, June 2nd, 1928. Brighton & Hove Greyhound Stadium opens its doors for the very first race meeting and attracts a crowd of nearly 7000 spectators who watched history being made as the Graham Hopper-owned 'Costs' claimed victory in the first race.
Gerard Keeley, who joined Hove in 1937 and became Managing Director in 1964, was one of the most influential figures behind the development of the track and his efforts deserve a special niche in the Stadium's colourful history.
Fast-forward a few years to Monday, July 16th, 1962, when HRH Queen Elizabeth II paid the Stadium a visit alongside Prince Philip, and, in fact, the Duke of Edinburgh owned a top-class stayer that was trained at Hove by the late Gordon Hodson in 1978-79.
Advance in time again to April 1967, where Brighton & Hove Greyhound Stadium saw the arrival of renowned Trainer George Curtis, who would go on to become a highly respected member of the greyhound community. Not only was he a pleasure to be around, he was a champion trainer three times - most notably to the revered 'Ballyregan Bob', who broke the world record for most consecutive wins when he scored his 32nd successive victory on Tuesday 9th December 1986.
Today, Brighton & Hove Greyhound Stadium is home to a selection of high-grade competitions: the Coral Winter Derby, the Coral Regency, the Sussex Cup, the Brighton Belle and the Coral Greyhound Olympic that coincides with the Ballyregan Bob Memorial Trophy. Each of these events display a spectacle of top-quality greyhound racing that provide exhilarating start-to-finish action and leave punters wanting more.
The recently-refurbished Stadium boasts an exclusive area for greyhound owners, two fast-food outlets, five bars, a Coral Health and Fitness Club and a function room for private events. With a capacity for 2,200 visitors and a brilliant view of the racing from the 400+ seat Skyline Restaurant, Brighton & Hove Greyhound Stadium is an ever-popular attraction along the South Coast and for visitors from London.
We're open for race meetings 5 times a week (more info), and welcome one and all to experience the sheer thrill of greyhound racing. Whether it's with a panoramic view of the sweeping track below from the Skyline Restaurant, tucking into a succulent freshly sizzled steak, or nose-pressed against the action at the trackside with an elegantly-effervescent pint of our finest beer in one hand and a gourmet-grilled beef burger in the other. Either way, a sensational day/night of entertainment is yours to be had.