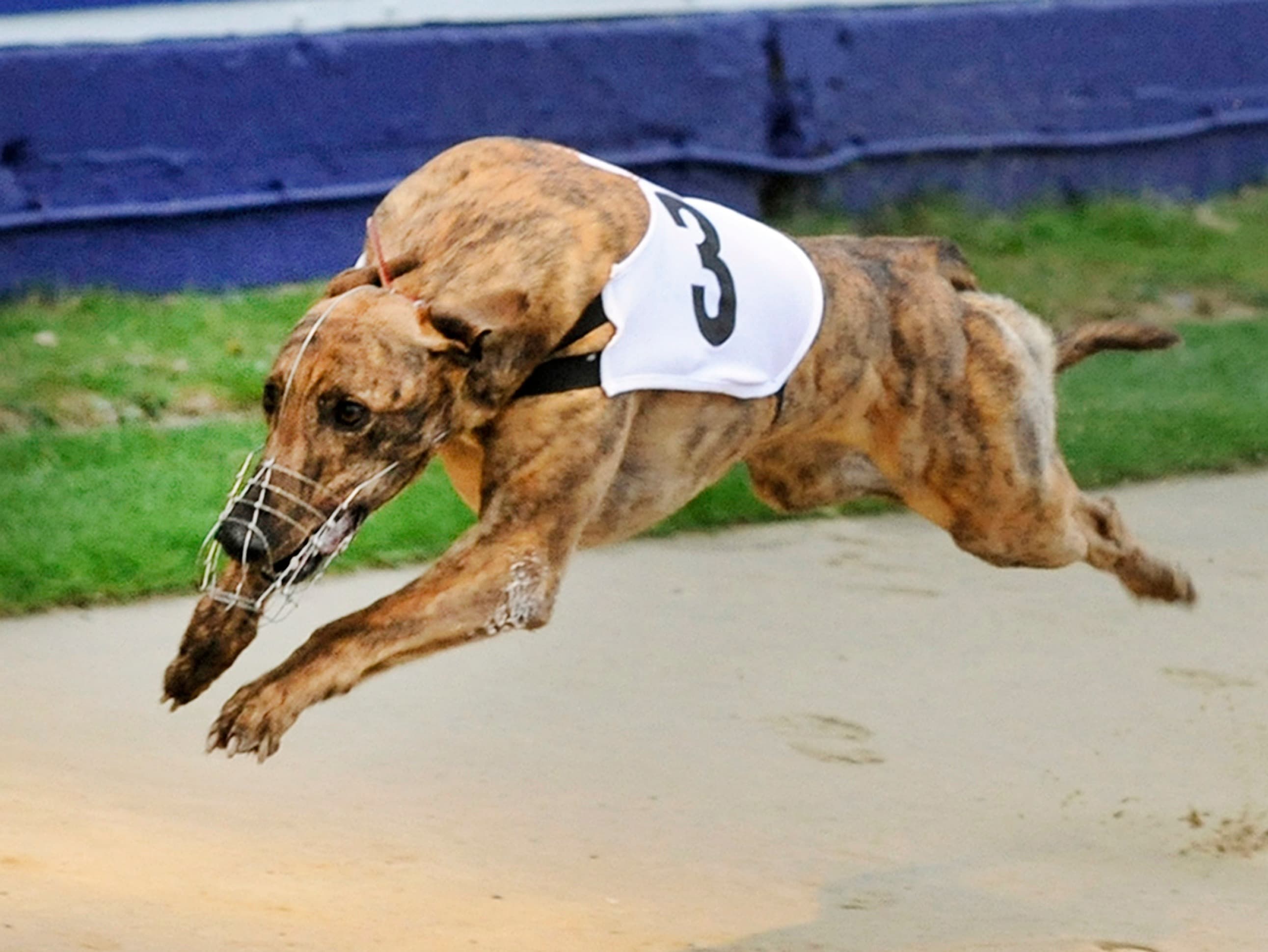 JIMMY LOLLIE: one of the greatest sprinters of the post-war era and a real credit to Seamus Cahill and Teresa Cahill.
p
JIMMY LOLLIE, the 2010 GBGB Greyhound of the Year, was universally acclaimed as one of the greatest sprinters in the 90-year history of the sport and he will always be revered by the greyhound racing fraternity.
p
"It has been decided after discussions with Steve [Gamblin, co-owner] and Peter [Reed, co-owner] to bring the curtain down on Jimmy Lollie's racing career and it's been an absolute privilege to be associated with this magnificent greyhound for the past three years," said trainer Seamus Cahill in May, 2012.
p
Jimmy Lollie, a dual Sprinter of the Year, secured his place among a pantheon of greyhound racing's most celebrated canine heroes with his all-conquering deeds on the track and the news of his retirement signposted the end of a truly fantastic era in the two-bend division.
p
The emergence of home-bred Jimmy Lollie, a greyhound for all seasons, reinvigorated the profile of two-bend racing and his dynamic performances on the big stage evoked comparisons with other outstanding sprinters of yesteryear, notably Ravage Again and Tims Crow.
p
Jimmy Lollie regularly beat off fierce competition from a vintage crop of sprinters that included the likes of Ballymac Ace, Drooopys Bocelli, Fifis Rocket, Greenlough Speed, Magna Buddy, Me Buddy, Officer Donagh, Rotar Wing and Slick Citi.
p
The August '07 son of World Class and Droopys Kara, a half-brother to 2009 Champion Stakes victor Go Big Hitter, endeared himself to racegoers with his phenomenal trapping ability, electric early speed, consistency and an unremitting will to pass the winning post in front.
p
There was the odd disappointment as, in a dramatic twist of fate, his bid to win all of the four 'majors' in the sprint division in 2010 was unfortunately aborted as icy road conditions prevented Jimmy Lollie from making the gig at Belle Vue when he was a warm favourite for a rescheduled final of the Scurry Cup.
p
The 34-kilo Jimmy Lollie had the rare distinction of winning from every trap, was successful at no fewer than 14 different tracks and retired as the holder of three track records - Hove (285m), Swindon (285m), Sunderland (261m) and Wimbledon (273m).
p
On December 20, 2010, Jimmy Lollie enjoyed a landmark moment when equalling El Boss modern-day record of 37 open-race wins in a calendar year when retaining his title in the final of the National Sprint Championship (305m) at Nottingham.
p
Ten days later he gained widespread media interest, in a style reminiscent of Ballyregan Bob's world record-breaking achievement screened live on BBC's Nine O'Clock News back in December, 1986, when he narrowly failed to notch up a 38th open-race win in one season before the Sky Sports News cameras after being shaded by Sleeping Urban in the 'Jimmy Lollie Challenge' over Hove's 285 metres.
p
In an unprecedented period of dominance in sprint opens at Hove in 2010, Jimmy Lollie won a staggering 23 of his 25 races on home soil and, moreover, his exploits nationwide clinched a clear-cut decision in a Greyhound of the Year poll that also featured Bandicoot Tipoki, Fear Zafonic, Nambisco, Mill Pinpoint, Droopys Bradley and Midway Skipper.
p
Jimmy Lollie, instrumental in Seamus Cahill becoming champion trainer for the first time in 2010, was also voted Best British-bred Greyhound by the Greyhound Writers' Association.
p
"There have been many people involved in the success story of Jimmy Lollie and I'm very, very proud of my staff for their contribution," added Cahill. "Greyhounds of the calibre of Jimmy Lollie come around once in a lifetime, and I don't think we'll see his like again for a very long time."
p
Jimmy Lollie, whose sporting connections never shirked a challenge and took on all-comers, accrued nearly £30,000 in prizemoney and his CV contains big-race successes in the £1,000 Betfred The Bonus King Sprint, £2,000 National Sprint Championship (twice), £2,500 Coral Sprint Trophy (twice) and £3,000 William Hill Festival Flyer (twice).
p
In March, 2011, the racing career of Jimmy Lollie hung tantalisingly in the balance after he sustained a broken metacarpal at Wimbledon and, to the great credit of his handler, he made a fantastic recovery from serious injury to cement his reputation as one of the all-time greats with further big-race honours.
p
Jimmy Lollie, affectionately known as "Jimmy" at Cahill's range, fired the public's imagination with his more-often-than-not unanswerable turn of foot and, indeed, open-race devotees could only marvel at the prodigious talent of one of the most prolific-winning open racers ever.
p
Hove has been synonymous with a long line of famous greyhounds that are now intrinsically woven into the fabric of greyhound racing folklore – Glin Bridge, Langford Dacoit, Upland Tiger, Yankee Express and the incomparable Ballyregan Bob to name just a select few - and Jimmy Lollie warrants to be mentioned in the same domain as those legendary performers of yesteryear.
p
The maxim of "uneasy lies the head that wears a crown" did not apply to Jimmy Lollie who, remarkably, reigned supreme in his sphere of the sport for three consecutive seasons.
p
"I think he will be remembered as one of the best sprinters we've seen," concluded Cahill. "He was a great traveller, very easy to train and he had a placid temperament – a great champion."
p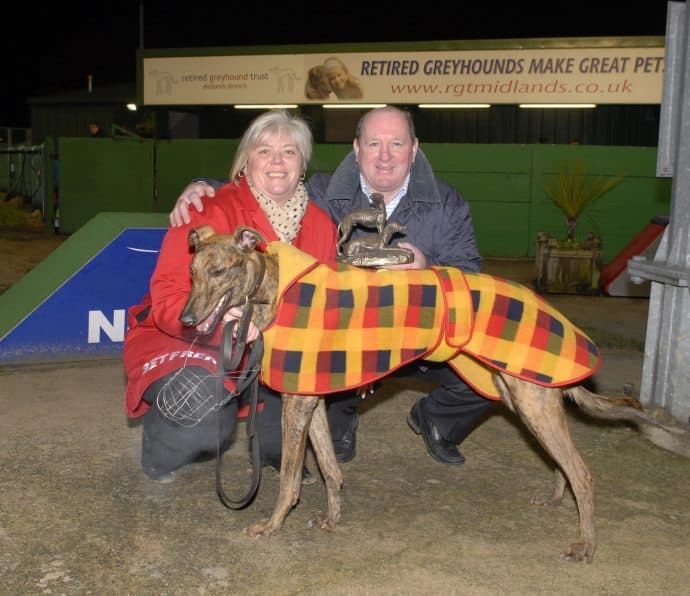 JIMMY LOLLIE: his performances on the track secured his place among a pantheon of greyhound racing's most celebrated canine heroes.