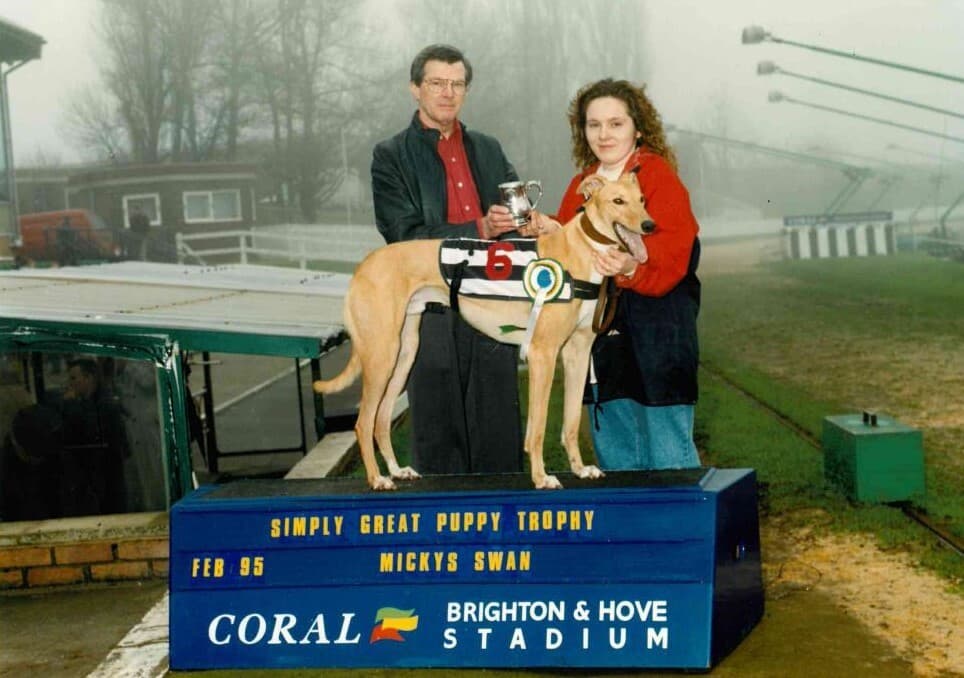 IAN RICE: A meticulous employee of the Sporting Life newspaper for more than twenty-five years and hugely-respected within
the greyhound racing community nationwide.
IAN RICE, one of the sport's longest-serving SP reporters until ill-health forced his retirement in 2008, sadly passed away in June, 2014, following a courageous battle against long-term illness. He was 76.
One of the last remaining instantly recognisable characters alongside Jimmy Jupp, Roy Pook, John 'The Judge' Keehan and George Gunn that fell into the 'Mr Hove' category, Rice gave fantastic support to a track that became a happy way of life for him for well over half a century.
The news of his death brought shock and grief to Hove yesterday and Jeff Piper, the track's deputy racing manager, paid tribute at the time: "This is a very sad day for the stadium, and we've lost a great friend – Ian was a tremendous supporter of the track for a long time, and we must offer our sincere condolences to his wife Joy and all of the family."
Rice, also the Hove greyhound correspondent of the Sporting Life from the early-1970s until the publication ceased in May, 1998, forged great friendships with colleagues Archie Newhouse, Bob Betts, Reg Potter, Charlie Maskey, John Curle, John 'The Admiral' Benbow, Roger Jackson, Bruce Millington, Mark Sullivan, Terry Norman, Dave Cook and Paul Duffet.
"Ian was part of our team for almost 30 years, he was unbelievably conscientious, very much one of the lads and he really epitomised the great characters of his generation – he was totally dependable and a dream to work with," said former Greyhound Life editor Bob Betts.
Rice, a meticulous form student with a vast knowledge of the history of the sport, was honoured for his services to the industry with a reunion of many friends from the Sporting Life and Press Association organised by lifelong friend and fellow SP reporter Joe Leonard in the Skyline restaurant at Hove in 2004, and his involvement with greyhound racing began when he was in his teens.
Rice, also formerly employed by the Evening Standard and Greyform to provide tips and betting forecasts and a contributor to the old 'Greyhound' monthly magazine, was particularly proud of his article in the souvenir racecard that coincided with Ballyregan Bob bettering Westpark Mustard's UK record of 20 consecutive wins at Hove in December, 1985.
Rice, who earlier this year resumed his ties in greyhound ownership with the Derek Knight-trained Dynamic Jess, relished the big occasions at Hove and he was privy to seeing a widespread collection of Hove's all-time greats in action that included such immortals as Glin Bridge, Upland Tiger, Yankee Express and Ballyregan Bob.
"Ian is the bravest man I've ever known, he still made appearances at Hove Bags meetings despite serious illness and he just wouldn't surrender to declining health," said Knight. "I will never forget his unstinting courage, and I must greatly applaud Joy for the love, comfort and support she gave Ian during a particularly difficult time."
The greyhound racing fraternity will remember an old school gentleman for his unimpeachable integrity, and Rice, whose dogged fight against Parkinson's Disease and leukaemia for over a decade was waged with unwavering courage and humour, leaves a legacy for all aspiring greyhound racing journalists and tipsters to follow.
Greyhound racing hacks are renowned for letting their hair down and Rice, a great socialiser in his heyday with whisky and a splash of water being his favourite tipple of yesteryear, enjoyed one of his proudest moments in the sport when he received a standing ovation at the annual Hove Greyhound Awards Night a few years ago after being the recipient of a Special Lifetime Achievement accolade at the end of his long and successful career.
The ultimate professional, hugely popular and respected by greyhound racing folk of several generations nationwide, Rice left a devoted wife, Joy, and his passing marked the end of an era at Hove.