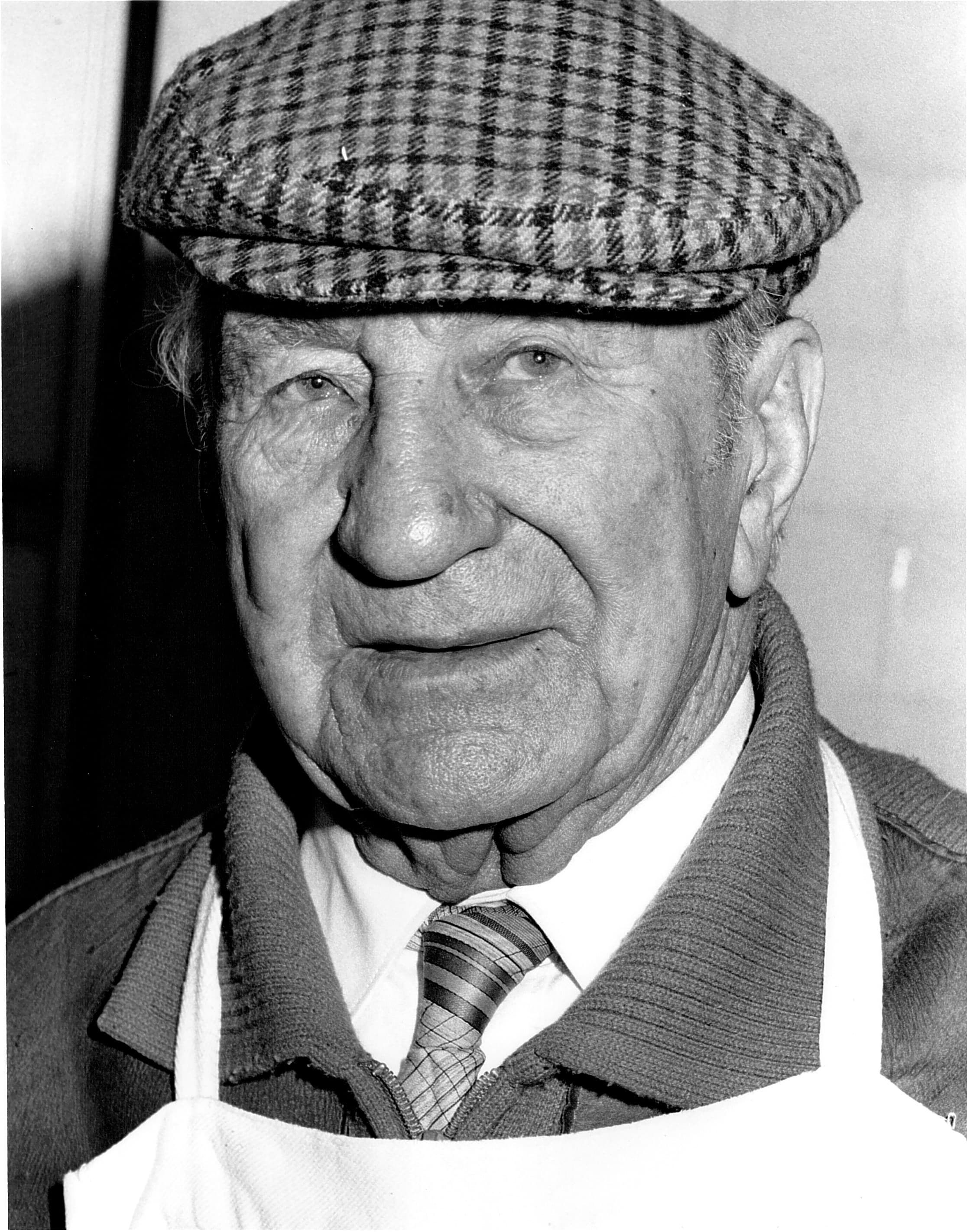 GGUNNER SMITH: The legendary former Hove trainer won the Regency on no fewer than seven occasions.
h
THE greyhound racing united in paying tribute to one of the giants of the history of Coral Brighton & Hove Stadium following the death of octogenarian Gunner Smith, undoubtedly one of the greatest trainers in the post-war era, in the early-1990s.
h
Albourne, where Smith was based throughout his career, went into mourning for the man who handled such top-class performers as Luxury Liner, Bellini, Jingling Star, Westlands Steve, Seagulls (late Glen Eagle), Laugh Lines, Westlands Bridge, Macs Jeannie, Lulus Hero, House Hunter and Sambuca.
h
Gunner Smith's Bunny Hoard won the inaugural running of the Regency, which was initially a Produce Stakes and later became an all-aged stayers' feature in 1966, and the perpetual trophy was taken back to Albourne by Smith on six other occasions – by Box Hedge (1954), Barnaby Rudge (1956), Mr Watt (1960), Luxury Liner (1961), Jingling Star (1979) and Macs Jeanie (1984).
h
Luxury Liner, one of the fastest middle-distance greyhounds trained by Smith during a career that spanned six decades, occupied fifth place behind the outstanding Palms Printer in the final of the 1961 Greyhound Derby over 500 metres at White City.
h
One of the most talented performers Smith trained was December '74 black Take Your Place, who had some memorable duels with the outstanding Wired To Moon and was rated an unlucky loser when knocked over at the third bend by rank outsider Creadon Super in the 1977 Regency (670 metres) final at Hove.
h
In 1978 Glin Fane, a litter-brother to Princess Glin and Hove's hurdles track record holder Wotchit Buster, set new figures for Hove's 725 metres, previously held by Langford Dacoit, when landing the 'Greyhound Magazine' Stakes on Sussex Cup final night.
h
Smith had to wait until 1985 for his second Greyhound Derby finalist - House Hunter – who was sixth behind Pagan Swallow (first), Jack The Hiker (second), Carrigeen Chimes (third), Walstone (fourth) and odds-on favourite Smokey Pete (fifth).
h
Renowned as an exceptionally good trainer of hurdlers – Hove often used to put on two or three hurdle races on an eight-race card in the mid-1970s, Smith was associated with the spring-heeled Bellini and this October '75 bitch, the 660 metres hurdles track record holder at Harringay, was Hove's track champion of a vintage crop in 1977/78.
h
Jingling Star was one of the top-rated stayers in the country in 1979 and she achieved memorable wins in the Regency (680m, Hove), Test (640m, Walthamstow) and Gold Vase (660m, Harringay).
h
Odds-on Cosmic Orbit, who held a lead of some four to five lengths at the last bend in the 1979 Regency final, had the misfortune to break a hock and left Smith's Jingling Star to coast home seven-and-a-quarter lengths clear of the Duke of Edinburgh's Playfield Royal in 40.62sec.
h
Seagulls (late Glen Eagle), who reached the final of the 1979 Grand Prix at Walthamstow, matured into one of the top eight-bend performers in 1980 and gained competition wins in the Nipa Lassie Marathon (830m, Harringay) and Waltham Forest Marathon (820m, Walthamstow).
h
"Westlands gives champion show" was the headline in the Sporting Life report on Thursday, January 15, 1981, following a fabulous win of Westlands Steve in the Empire Hurdles over 490 metres at Wembley.
h
Mike Palmer, who once tipped 15 successive winning naps on LBC's popular nightly greyhound racing coverage, wrote in the Sporting Life: "Westlands Steve established himself as champion hurdler when running away with the William Hill Empire Hurdle at Wembley yesterday.
h
"The odds-on Brighton star won by nearly five lengths from Keen Fowler by gave his supporters a fright when completely missing his break."
h
The Brian Reeves-owned Westlands Steve won 44 of his 106 starts and set new track records over timber at Hove (515m), Harringay (475m) and Wembley (490m).
h
Candlemaker, whose dam Silver Candle was fifth to Glin Bridge in the 1975 Regency final, went clear in the early stages and held on by a diminishing neck from Timmys Battle in the final of the ITV-televised 1981 Ladbroke Guys & Dolls (660 metres) at Harringay.
h
In 1982 Westlands Bridge, a product of champion sire Glin Bridge, eclipsed the previous best figures of Westlands Steve when taking centre-stage in the decider of the Daily Mirror Hurdles (475 metres) at Harringay.
h
Completing a notable double for Smith – Candlemaker won the Ladbroke Golden Jacket Consolation over 660 metres – Westlands Bridge sluiced home by almost five lengths from Deep Ditch in 29.04sec.
h
Painstaking care, patience and a steadfast willingness, coupled with a perseverance to nurture a greyhound that has a natural aptitude, are the requirements for a new influx of jumpers and Westlands Bridge, owned by hurdles fan Brian Reeves, dominated this sphere of the sport in the early-1980s.
h
The 1981 TV Trophy (830 metres) at Perry Barr – won by 1981 Greyhound of the Year Decoy Boom - is by common consent the highest quality renewal since the race was inaugurated in 1958 and Smith's Laugh Lines secured the runner-up spot ahead of Pineapple Choice (third), Salina (fourth), Westmead Light (fifth) and Corboy Champion (sixth).
h
The victory of Laugh Lines, who dead-heated with reigning St Leger title-holder Fair Reward for second place in the 1981 Regency final (740 metres) at Hove, in the 1982 Canada Dry Marathon (820 metres) at Walthamstow gave the trainer one of his most memorable moments.
h
In a blanket finish to the decider of an above-standard 1984 Regency (740 metres) at Hove – two-and-a-half lengths covered the entire field - Smith's injury-prone Macs Jeanie got the verdict by a head from 13-8 favourite Market Mover with Kasama Trac (third), Parkdown Imp (fourth), Blue Shirt (fifth) and Sandy Lane (sixth).
h
Aitch Bee, who achieved the unique feat of qualifying for three consecutive Olympic finals (1983-84-85) at Hove, was a beaten 11/8 favourite when second to Wheelers Tory in the 1984 Gold Collar (555 metres, Catford) and also caught in the last stride by Ballyregan Bob in the 1985 Essex Vase (600 metres) at Romford.
h
Marathon ace Star Decision never received the credit she deserved - the top Hove-based stayer of her generation chased home Mobile Bank in the 1984 Cesarewitch (815m, Belle Vue) and was runner-up to the magnificent Scurlogue Champ in the 1985 Regency (740m, Hove).
h
Dual Laurels finalist Lulus Hero, owned by fearless punter Graham Caswell, defeated the likes of Hong Kong Mike (trap two), Fearless Champ (trap three), Carrigeen Chimes (trap four), Evening Light (trap five) and Peaceful Invader (trap six).
h
House Hunter, the only British-bred finalist and also the youngest, was owned in partnership by estate agent David Humphreys and Tony Noble – the pair backed House Hunter, who was runner-up to Ballyregan Bob in the decider of the Olympic (515m) at Hove prior to the competition, at 100-1 to reach the final of the 1985 Greyhound Derby at Wimbledon.
h
House Hunter, who completed a rare Olympic/Sussex Cup double in 1986, successfully defended his Olympic title in 1987 when scoring by a length-and-a-quarter from Black Spindel.
h
Sambuca, the heir apparent to House Hunter in Smith's kennel, enjoyed fabulous success in 1987 with big-race wins in the Blue Riband (490 metres, Wembley) and Sussex Cup (515 metres, Hove).
h
In the twilight of his career his best greyhound was Young Jaime, who won the 1991 Racing Post Bags Championship final at Hove, the E Coomes Challenge at Hove as well as finishing third to Shanavulin Bingo in the Olympic and second to Lyons Monks in the Sussex Cup.
h
Other top-class performers he handled included Galaxy Elvis (1981 National Hurdle), Sweeping Bran (1982 Take Your Place/Tyrean Trophy), The Italian Job (1982 Stewards Cup), Wolseleys Scout (1983 Coral Golden Hurdle), Valentine Rose (1983 Puppy Oaks), Lord Westlands (1988 National Hurdle & 1988 Wingspares Supreme Hurdle).
h
Owners including Jimmy 'Mr Hove' Jupp, John Joicey, Stan Banks, Bernie Pierce, Colin Barnett, Brian Reeves, Sue Bunn, Peter Horne, Alec Kovats, David Humphreys, Tony Noble and Robert Delacour all had particularly fond memories with the kennel and Doreen Barwick, Smith's head girl, took over from the retiring Gunner Smith in January, 1992.
h
Smith totalled no fewer than 12 beaten Regency finalists on home soil between 1973-1987 and that list features Arthurs Hobby (3rd, 1973), Take Your Place (6th, 1977), Princess Glin (5th, 1980), Laugh Lines (2nd, 1981), Seagulls (4th, 1981), Lemon Valley (6th, 1981), Brass Tacks (4th, 1982), Candlemaker (5th, 1982), Star Decision (2nd, 1985), Macs Jeanie (4th, 1985), Princess Bran (5th, 1985) and Final Decision (3rd, 1987).