THE name of Glin Bridge is evocative in greyhound racing folklore, as one of greyhound racing's greatest-ever canine heroes thrilled thousands upon thousands of racegoers at NGRC racecourses in the mid-1970s with his superlative displays at the top level over long distances.

p
After setting a new track record for the 600-yards course at Enniscorthy in 1974, Glin Bridge was purchased by Derek Allen and Jimmy Howlett and sent over to George Curtis at Brighton.
p
"George Curtis, Hove's most successful ever trainer, had a particular knack with stayers – his world champion Ballyregan Bob, plus the likes of Leading Pride and Bonzo ,will always be fondly remembered. " said Hove's former assistant racing manager Jim Cremin. "I worked at Hove from 1973-77, and the superstar of that period was indeed Glin Bridge."
p
After showing immediate promise in trials at Brighton, Glin Bridge put up a spectacular display of trackcraft over 670 metres on his debut on very heavy going from trap one – the surface was all-grass in that era – when coming from behind to beat Hascombe Place by half-a-length in 42.66sec.
p
"This was certainly a handsome dog and so powerful," said Cremin. "Glin Bridge quickly became established and was feared over Hove's 670-metre trip – he boasted exceptional trackcraft, cleverly avoiding trouble before invariably taking majestic charge of his races."
p
The following month Glin Bridge was entered for the Ladbroke Golden Jacket over 660 metres at Harringay, though he was an unlucky-in-running fourth to eventual winner Nice One Cyril in the qualifying round and was found to be off-colour afterwards.
p
In March, 1975, stamped himself an outstanding long-distance prospect when overcoming trouble to pip the very smart Sampson Flash by a head in the final of the prestigious Wimbledon Spring Cup (660 metres) at Plough Lane.
p
The same month Glin Bridge toppled the mighty Westpark Mustard, who achieved the remarkable feat of going through the entire season without defeat in 1974 and notched 20 consecutive wins – a British record until Ballyregan Bob rewrote the history books in 1985.
p
In May 1975, Glin Bridge (1-2F) earned a terrific reception from his home fans when scoring by three-parts of a length from ace stayer Streaky Sheila (7-2, second) in the final of the Regency (670 metres) at Hove with Joybringer (5-1, third), Sparkling Lady (33-1, fourth), Silver Candle (20-1, fifth) and Chain Gang (14-1, 6th).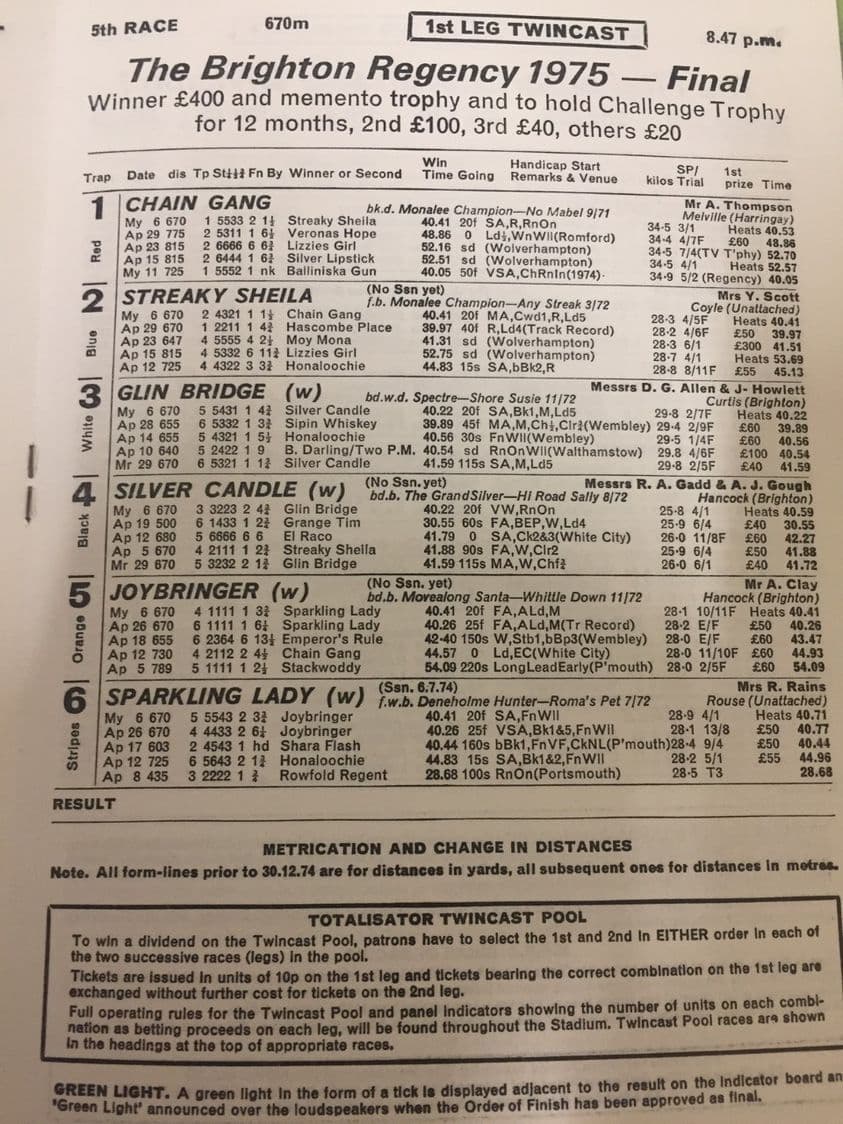 THE RACECARD FOR THE 1975 REGENCY FINAL AT HOVE: Glin Bridge reigned supreme in a memorable final before 4,500 spectators and later defeated runner-up Streaky Sheila in a special 'match' race at Hove.

p
Glin Bridge, taking his career tally to 13 wins from 14 outings, easily confirmed the form with Streaky Sheila in a special 'match' race – the sidestakes were £500 apiece - over the same course and distance soon afterwards by three-and-three-quarter lengths in 40.28sec.
p
The following week Glin Bridge was pitched against Dancing Dolores, the darling of the host track, in a 640-metre 'match' race at Walthamstow and there was extensive media publicity in the countdown to the showdown.
p
"This Bridge is too good for Dolores" was the front page headline in the Sporting Life and Glin Bridge (8-13F) hacked up by seven lengths from Dancing Dolores in a new track record of 39.77sec.
p
In June, 1975, 2/5 favourite Glin Bridge extended his winning sequence to 13 when he romped home by two-and-a-half lengths from Floating Penny in the decider of the Wembley Gold Cup (655 metres), a traditional preview to the long-distance classic, the Greyhound St Leger, at the Twin Towers.
p
Arthur Aldridge, the GRA's chief racing manager, then readily accepted an opportunity to put on a 'match' race between champion stayer Glin Bridge and TV Trophy heroine Lizzies Girl, who was co-owned by David Toomey and racehorse trainer Ron Smyth, over 730 metres at White City.
p
It was almost a leisurely success for 4/11 favourite Glin Bridge, who set a new track record of 44.03sec when coasting home three-and-a-half lengths clear of Lizzies Girl (7-4).
p
In July, 1975, Glin Bridge clocked a brilliant 39.61sec in a solo spin over 670 metres at Hove – it was an unofficial track record because trials do not count for record purposes and it was used as a pipe-opener ahead of a proposed three-dog challenge versus Handy High (lame) and Sampson Flash (coughing) that failed to materialise because those two greyhounds were out of training.
p
The following month Glin Bridge, who now had an aura of invincibility, was installed the 7/4 ante-post favourite for the St Leger (655 metres) at Wembley with greyhound racing bookmaker Bill Mahon, though a large slice of misfortune thwarted Glin Bridge, who was eliminated in the quarter-finals, in his bid to join some illustrious names on the list of previous winners.
p
The Sporting Life Wembley greyhound correspondent Albert Bright wrote: "Even his critics had to admit that Glin Bridge was the unluckiest of losers on Monday, when he had to make up ten to twelve lengths on Greyhound Derby winner Tartan Khan in the third heat of the St Leger. He eventually went under by a mere three-parts of a length behind the 40.11sec winner.
p
"It was his second successive defeat after a run of 15 consecutive victories, but he has probably gained more admirers as a result of those two reverses."
p
In February, 1976, Glin Bridge thrilled millions of armchair viewers on ITV's 'World of Sport' when landing the final of the Ladbroke Golden Jacket (660 metres) in show-stopping style on the day that timber-topper Stuart Captain jammed the switchboard of London Weekend Television when well clear of his rivals at the final flight in the Skol Lager Hurdle (475 metres).
p
"Some of his best performances came at Harringay when he won the 1976 Ladbrokes Golden Jacket," added Cremin. "The competition, which remains a high-profile event staged at Crayford, was particularly important in the mid-1970s, as it regularly featured on ITV's World Of Sport Saturday afternoon coverage and the exploits of Glin Bridge ensured he became a household name."
p
The November '72 white and brindled dog by Spectre-Shore Sussie, highlighting his claim to be one of the most cleverest trackers in the history of the sport, weaved his way through the field from last place get up close home to account for Drynham Star, the fastest heat winner, by three-quarters of a length in 40.59sec.
p
1976 LADBROKE GOLDEN JACKET RESULT (February 28)
(660 metres Harringay)
1ST GLIN BRIDGE (1) 9-4 40.59
2nd Drynham Star (6) 6-4F ¾
3rd Weston Birch (4) 11-2 1
4th Dancing Dolores (5) 11-2 1
5th Only One (3) 20-1 1 ¾
6th Westmead Land (2) 14-1 2 ¼
p
In April, 1976, Glin Bridge, the previous season's undisputed champion stayer who got within five races of emulating Westpark Mustard's 20 straight wins, attracted a record crowd to Rochester when easily defeating Burnley, the former 480 metres track record holder, and ace stayer Spats (subsequent 1977 St Leger finalist) in much-publicised three-cornered challenge arranged by RM Des Nichols, for the Playboy Invitation Stakes over 650 metres at Rochester.
p
In one of the most well-contested Regency finals ever - it became an all-aged stayers' feature in 1966 – Glin Bridge was the most unfortunate of losers in the 1976 Regency final over 670 metres at Hove when he divided the record-breaking Westmead Champ and Drynham Star.
p
During a career of almost unparalleled success over six bends Glin Bridge, handled by three-times champion trainer George Curtis throughout his career, contested 49 open races – he won 33 of them and was second in ten of the other sixteen.
p
Glin Bridge, a multiple champion sire in the late-1970s and 1980s, had a tremendous influence at stud, especially in the southern region, and the pick of his progeny were Jingling Star, Tread Fast, Seagulls (late Glen Eagle), Salina, Fluffylugs and Market Mover.
p
One of the oldest arguments that rages in any sport is the comparison between past and present "greats", though it is particularly safe to claim that Glin Bridge, who oozed class and had the rare ability to win from any trap, is right up there with the likes of Westmead Champ (1976), Ballyregan Bob (1986), Waltham Abbey (1989), Chicita Banana (1990), Suncrest Sail (1995), Spring Rose (1996), Palace Issue (2000), Centour Corker (2003) and Roxholme Girl (2004).
p
Archie Newhouse, the former greyhound racing editor of the Sporting Life and famed for his weekly Wednesday column - 'My Greyhound World' - once declared: "Glin Bridge was the hottest property in greyhound racing in 1976."
p
Glin Bridge was a great champion!