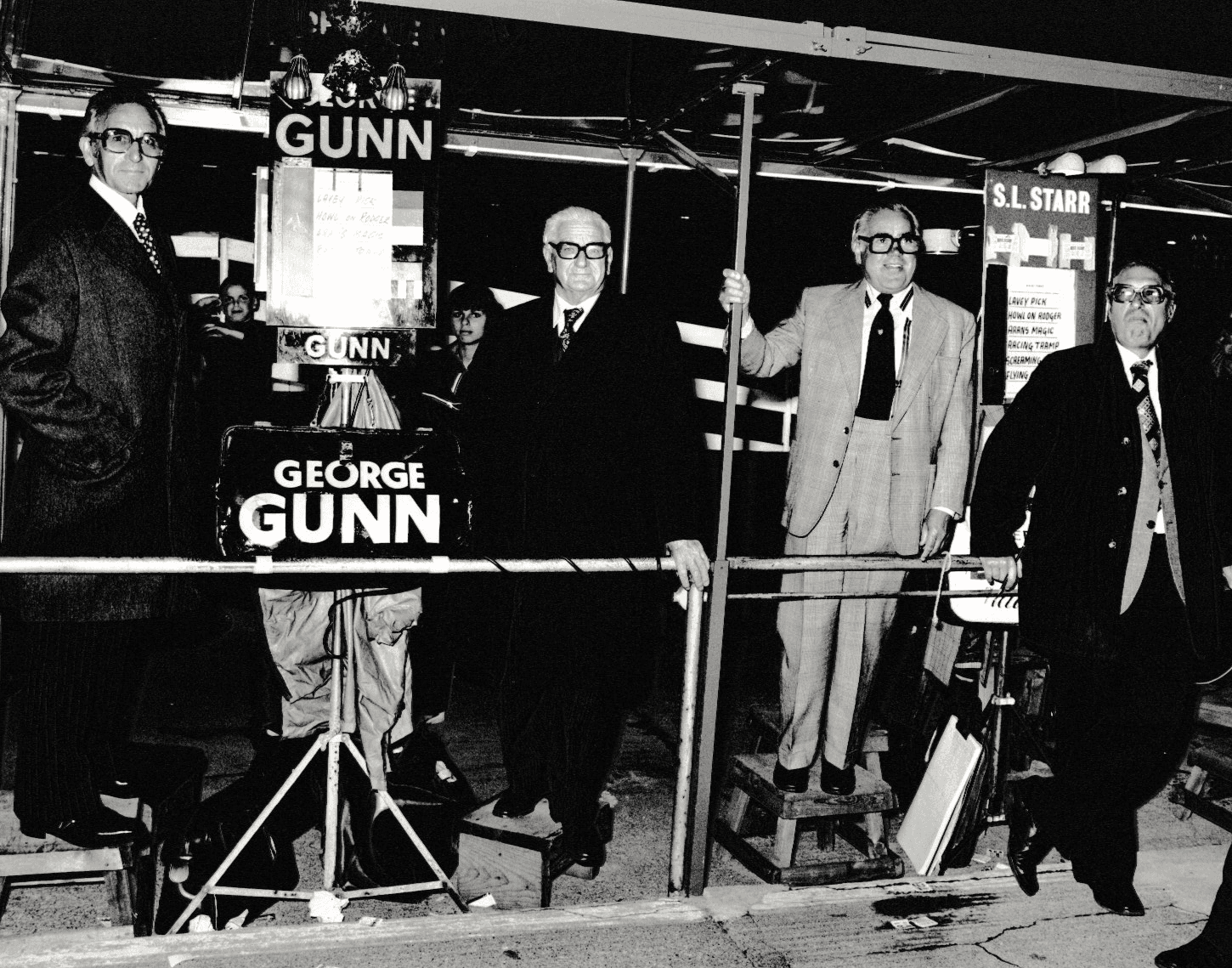 p
GEORGE GUNN, the former legendary Hove bookmaker and one of the track's most colourful characters during a golden era in the sport, died in 2014. He was 94.
p
Born in Sun Street, in the Carlton Hill area of Brighton, George was the son of bookmaker 'Chubby' Gunn, who operated a pitch at Brighton & Hove Greyhound Stadium and local Point-To-Point race meetings.
P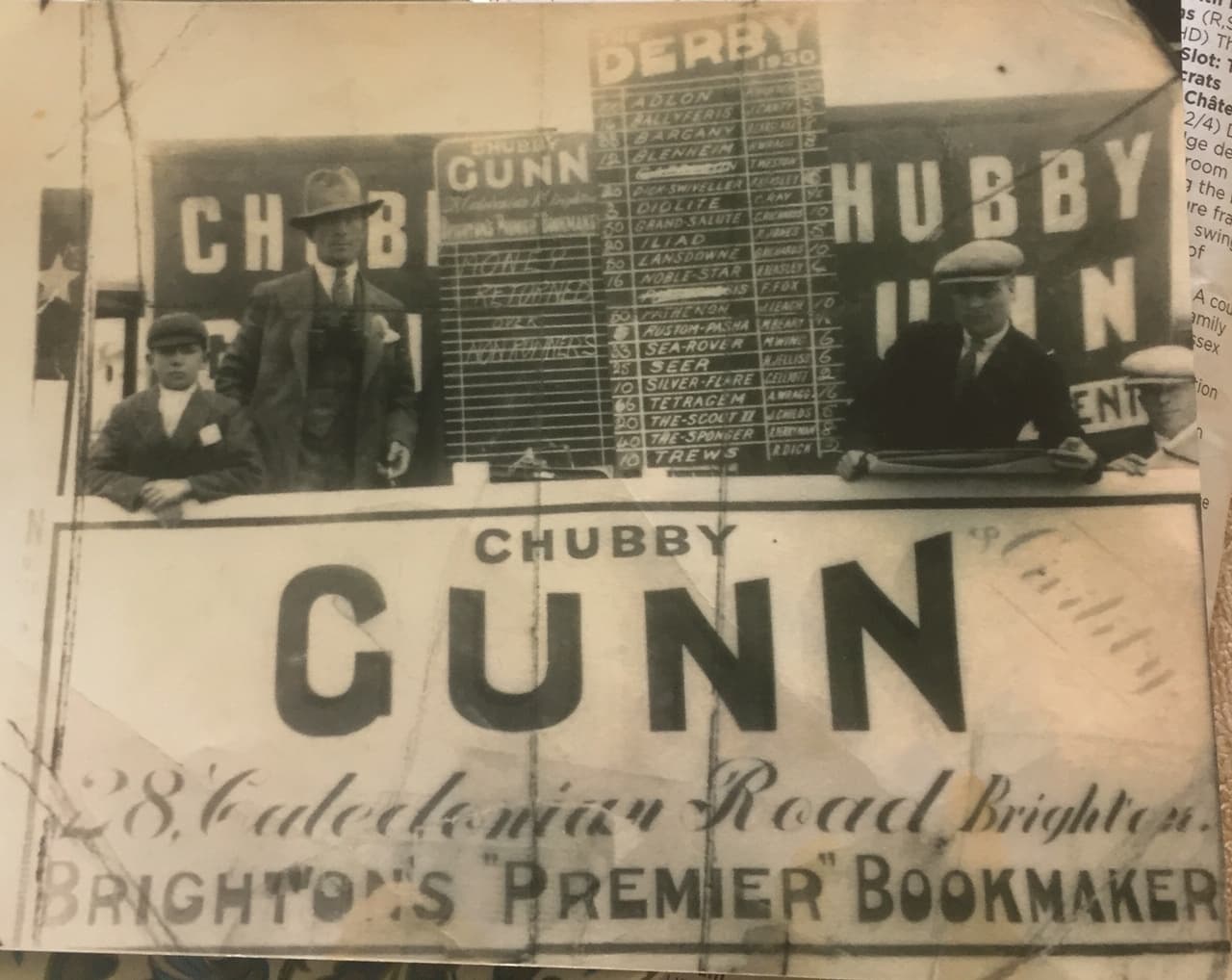 GEORGE GUNN (far left): the new bookmaker prodigy working alongside his father 'Chubby' Gunn on 'Derby Day' at Epsom in the 1930s just prior to the era of record crowds of 250,000 people.
p
The Gunn family, steeped in folklore within the bookmaking industry, made a book on the very first meeting at Brighton & Hove Stadium in 1928 in the Orchard Road enclosure.
p
George Gunn, aged just ten, was a very able 'Tic-tac' – a traditional method of signs used by bookmakers to communicate the odds - for the firm and his amazing prowess at such a tender age was the talk of the track in those days of huge crowds when the sport was in its infancy.
p
Simultaneously, George Gunn created a piece of history in greyhound racing folklore when he stepped in at the last minute to clerk for his father at the dogs at the same age and this manoeuvre fascinated a very big crowd as they gathered around the joint.
p
This came to the attention of big Manchester-based bookmaker Gus Demmy, who incredibly offered George Gunn a job as a clerk at 12 years old at Belle Vue greyhounds and the youngster left home for a two-year education in Lancashire.
p
In 1953, George Gunn started up on his own as a bookmaker at Brighton & Hove Stadium and his immaculate dress code, professionalism and large splash of charisma made him an instant hit with the seasoned and casual racegoer alike.
P
George Gunn subsequently married Hannah Mendoza, a sister in a well-known bookmaking family and a cousin of the late Victor Chandler senior's wife, and he took over the pitch at Hove on the death of his father.
p
George Gunn, a tireless worker for charity, raised thousands of pounds for 'Chailey Heritage' and he was regularly invited by showbiz stars - the likes of Sean Connery, Ronnie Corbett and Bernard Bresslaw - to play as a goalkeeper in fund-raising soccer matches.
p
He was the best friend of former Chelsea and Manchester United team manager Dave Sexton, who lived in Brighton, and was solely responsible for bringing the likes of Jimmy Hill, Johnny Haynes, Bobby Moore and Geoff Hurst to the Goldstone Ground, the spiritual home of Brighton & Hove Albion, for testimonial and charity fixtures.
p
George Gunn was pivotal in rescuing Brighton & Hove Albion from dire financial difficulties prior to the 1964/65 season, as he was instrumental in signing former England centre-forward Bobby Smith and this move prompted a dramatic rise in attendances for home matches.
p
George Gunn, a great friend of the legendary Manchester United team manager Matt Busby, helped to facilitate a deal that brought Republic Of Ireland defender Noel Cantwell to Old Trafford in 1960 and he was regularly invited by the club as a VIP guest.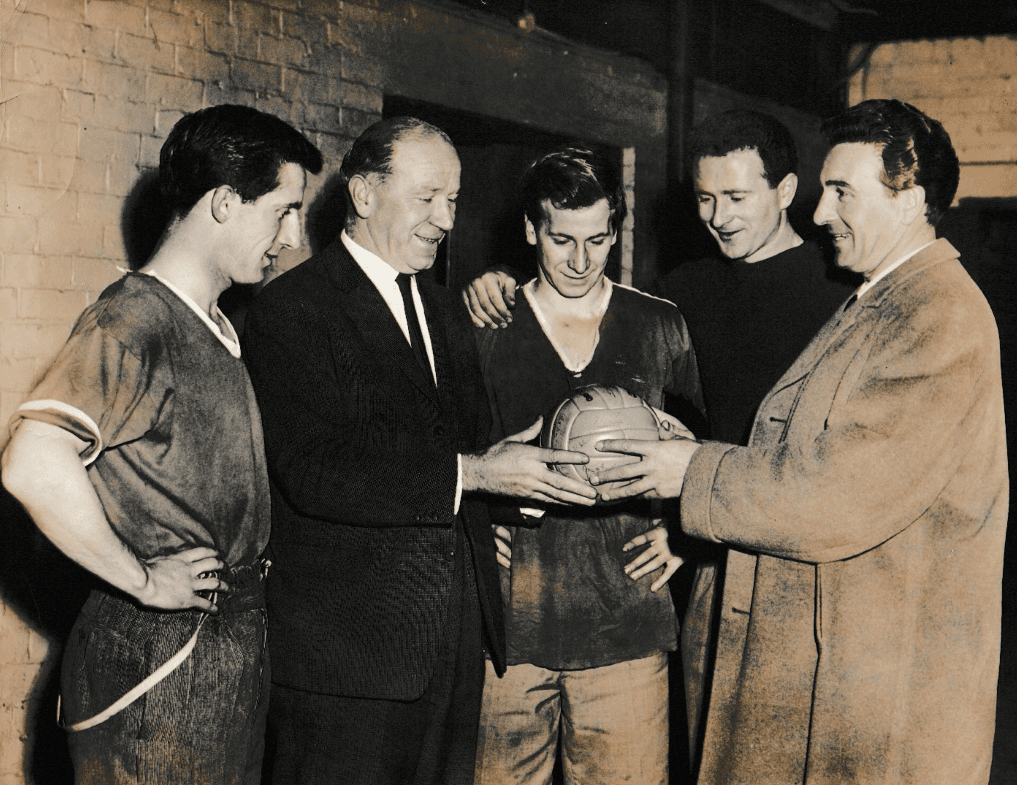 GEORGE GUNN (far right) alongside Dennis Viollet, Matt Busby, Bobby Charlton and Harry Gregg at Old Trafford in 1958.
p
The charismatic Gunn, renowned for his professionalism and a diligent student of the form book, was universally lauded as one of the country's top racecourse bookmaker clerks during his association with Ted Sturman of the Fred Binns organisation and, aside from his phenomenal skills with figures, he struck up a great rapport with punters.
p
A variation of opinions on the outcome of any individual race is the essence of greyhound racing, though George Gunn, a wizard of odds, always stressed that his study was certainly not about what greyhound was most likely to win.
p
"I am a figures man," he once said. "I used to spend hours before a meeting going through the runners and form and it is all to do with prices."
p
The betting ring was a hive of activity in the mid-1970s and the other layers that bet alongside George Gunn at Brighton & Hove Stadium were Peter Gordon ('betting without the favourite'), Brian Clarkson, Laurie Collett, John Poulter, Sid Starr, John Banks and Ronnie Gausden.
p
He also enjoyed considerable success as a greyhound owner, especially with Ruakuras Mutt, who was a brilliant winner of the 1977 Puppy Derby at Wimbledon and later matured into one of the top stayers in training.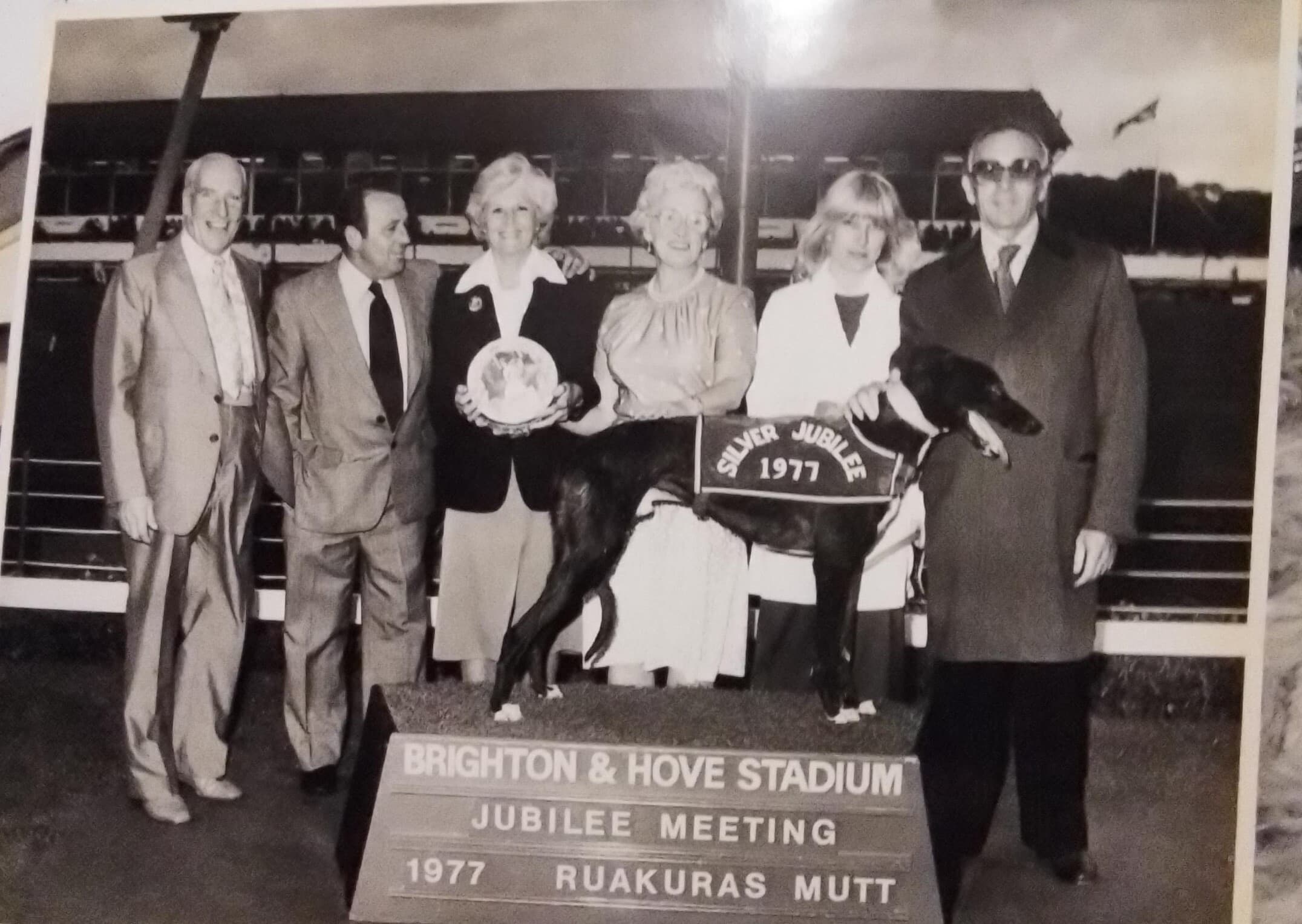 GEORGE GUNN (far right) is pictured on the trophy presentation podium at Hove following the open-race win of Ruakuras Mutt, who was installed the ante-post favourite for the 1978 Greyhound Derby at White City, at Hove in 1977.
p
There was a special ITV feature - 'The Race Is On' - on Brighton & Hove Stadium during the Brighton Belle in 1983 and George Gunn was the central figure of the programme, as he was filmed taking bets throughout the meeting and there was extensive coverage of him at home compiling odds for each individual race at the meeting.

p

67-year-old Gunn, who relinquished his pitch at Hove in 1987 to allow son Michael to continue the family business, was particularly active in race sponsorship, fund-raising and made a significant contribution to the local branch of the RGT.
p
Brian Clarkson, the doyen of the Hove bookmakers and pitch holder since the early-1970s, paid tribute: "I knew George for over fifty years, as a friend and as a colleague and, in all that time, I never saw him looking anything but the business. That was George – he was the business!
p
"A character of a more courteous and chivalrous age - he will always be remembered for a phrase that greeted a transaction with all of his customers, "Thank you, sir".
p
A keen golfer, George Gunn was captain at West Hove Golf Club and annually co-organised a charity event - 'The Brighton & Hove Greyhound Stadium Golf Championship - at the Dyke Golf Club with former British, Commonwealth and European Heavyweight boxing champion Henry Cooper.
p
George Gunn, an irrepressible character, was still sought after in his mid-eighties as he worked for the legendary Tony Morris and John White at Wimbledon greyhound stadium.
p
Also in his mid-eighties, George Gunn was employed by the 'Sam Harris' bookmaking organisation at principal southern horserace meetings and his name is synonymous with all that is good with his home town of Brighton & Hove - he was a colossus!
p
George Gunn was a dearly loved father, grandfather and great-grandfather, and his funeral service took place at Downs Crematorium, Bear Road, Brighton on Wednesday, May 21 at 12 noon, 2014.
p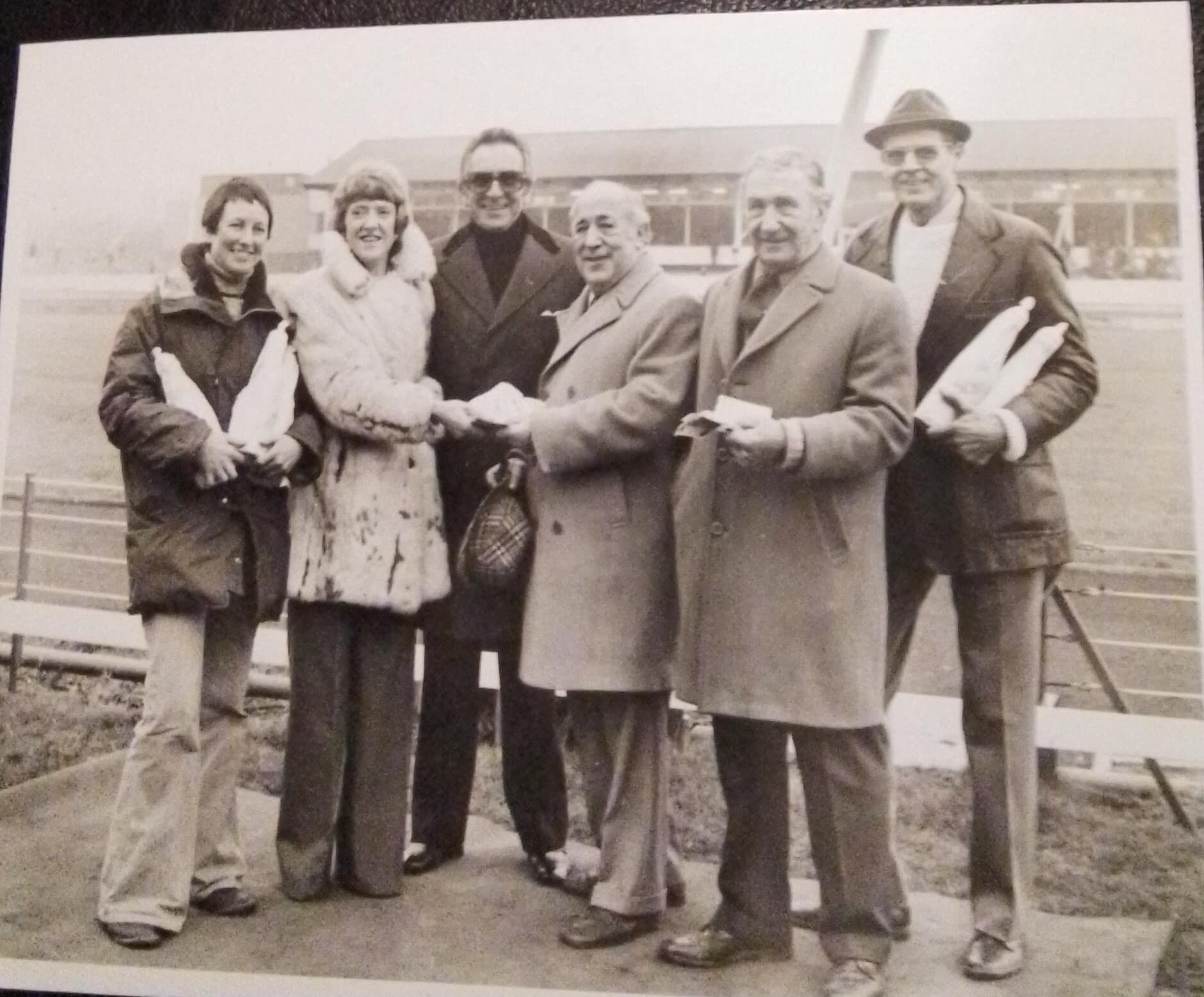 THE presentation of the £250 cheque for the trainer that supplied the highest percentage of winning favourites at Hove in 1976 (l-r): Doreen Walsh, Eileen Hill, George Gunn (sponsor), Arthur Hancock (winner), Gunner Smith and George Curtis.
p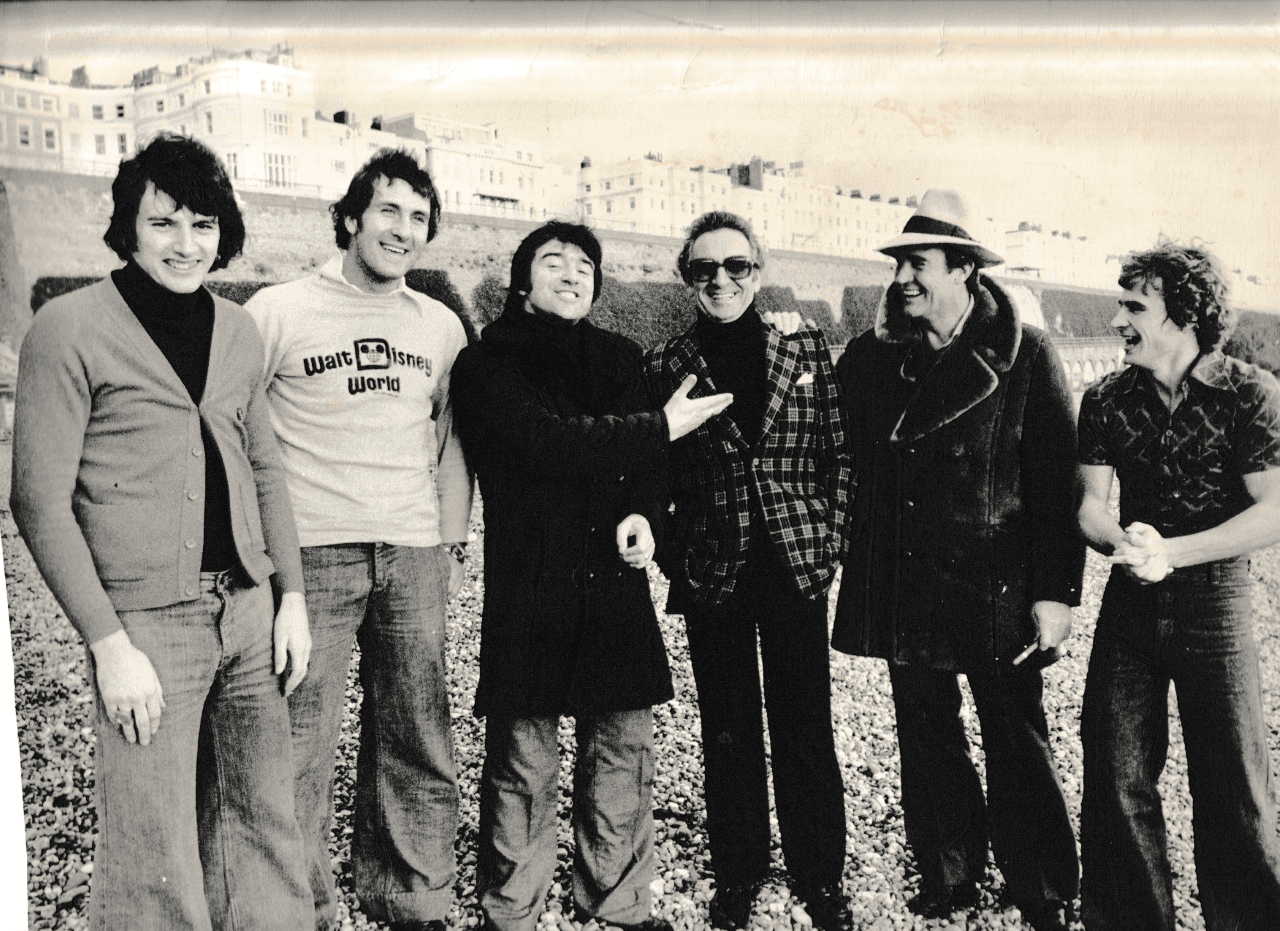 GEORGE GUNN is pictured alongside Terry Venables (third left) and Malcolm Allison (second right) on Brighton seafront in the late-1970s.
p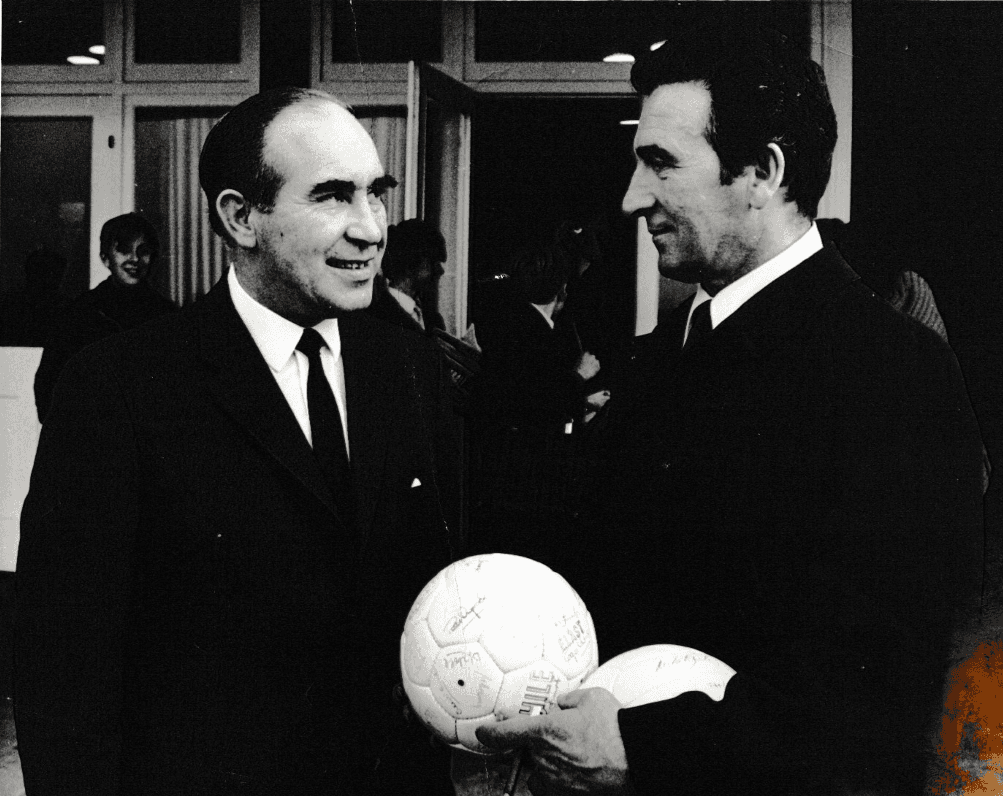 GEORGE GUNN and England's 1966 World Cup-winning team manager Sir Alf Ramsey.