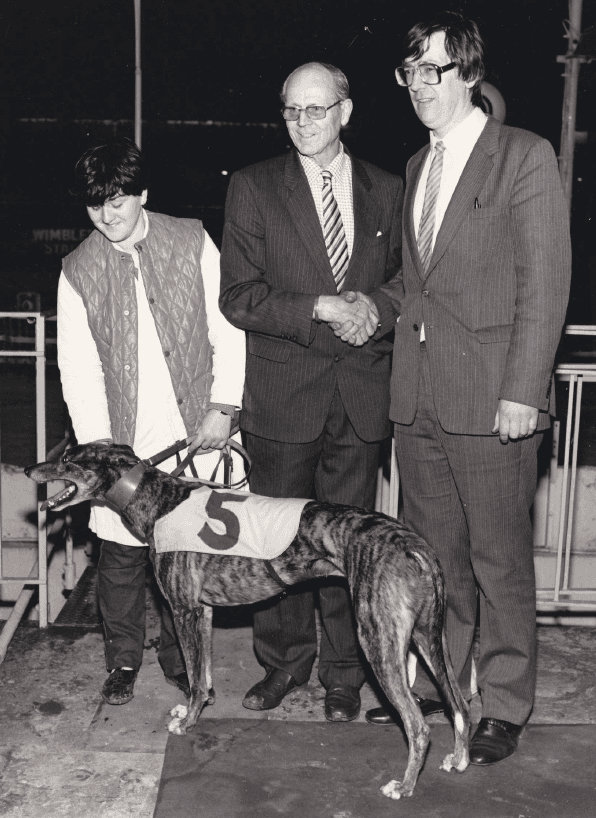 BALLYREGAN BOB: Pictured following an open-race win at Wimbledon with Sue Warner (kennelhand), George Curtis and Wimbledon Racing Manager Bob Rowe.

p
GEORGE CURTIS, one of the most revered personalities in greyhound racing history and unquestionably Hove's most famous trainer since the sport was first staged at the stadium in 1928, died in 2020. He was 96.
p
Born into poverty in 1923 and one of nine children, Curtis, grafted his way from hardship to achieve a coveted place in the sport's Hall of Fame and the deeds of a multitude of top-notch performers, most notably world champion Ballyregan Bob, became the stuff of legend.
p
Curtis, who survived a life-threatening bout of tuberculosis as a five-year-old, picked up the greyhound racing bug when he was in his teens following a visit to Portsmouth Stadium.
p
In the spring of 1938, an enthusiastic Curtis began his career in the sport on £1 a week wages when joining trainer Bill Peters and, as they say, the rest is history.
p
Seven years later, in the aftermath of the Second World War, Curtis decided to set up on his own at Pompey and he quickly assembled a good bunch of owners - his first open-race success came instantly in the shape of the aptly-named Lottbridge Win It.
p
In 1948, Curtis married Phyllis Austin, but the partnership sadly remained intact for only seven years as she died in tragic circumstances after contracting leukaemia.
p
Curtis first made a breakthrough into the big time when he steered Bad Trick to Puppy Derby glory at Wimbledon in 1964 and, remarkably, that outstanding bitch duly completed a rare double when landing the Puppy Oaks there a few weeks later.
p
At around this time Curtis met his future wife Lily on a blind date at a cinema to see hit musical 'The Sound of Music' and the couple enjoyed great happiness in the intervening fifty-odd years until her death in 2014.
p
The swinging sixties was a fantastic period for Curtis both personally and professionally and, in 1967, he moved into the big league when accepting a training appointment at Brighton and the move coincided with him supplying a famous 1-2 in the Regency via Ever Work and Small Ration.
p
The success story continued apace, as Curtis guided Hard Held to the final of the 1969 Greyhound Derby at Wimbledon. Although the fawn dog could manage only fifth place behind Irish raider Sand Star, Curtis was thrilled by the achievement and he was now acquiring an affinity for the big occasion.
p
However, personal grief struck shortly afterwards when Charlie, his brother and best friend, was killed in a road crash on the way back from an open-race engagement at Crayford.
p
In 1970, Curtis targeted the Cliff Kevern-owned Sirius at the Greyhound Derby at White City and history repeated itself as the £2,000 purchase occupied fifth spot behind John Silver in the decider.
p
During the early-seventies, Curtis continued to prosper and Leading Pride, one of the most talented stayers he ever trained, emphasised the point with a superb victory in the 1973 BBC TV Trophy (880 yards) at Wimbledon.
p
1975 was a fantastic year for Curtis, as he sent out his first classic winner in the shape of Abbey Glade, who had recently won the Sussex Cup on home soil, in the Gold Collar at Catford.
p
That year the outstanding Glin Bridge arrived at Curtis's Albourne base and, on the back of a track record-breaking run at Enniscorthy, he made a spectacular winning debut at Hove and was immediately touted as a potential champion stayer.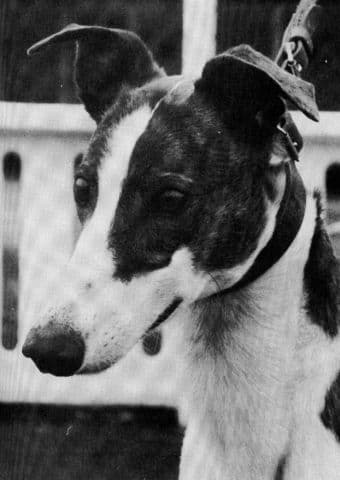 GLIN BRIDGE: Thrilled millions of ITV viewers when coming from last to first in an epic renewal of the Ladbroke Golden Jacket (660 metres) at Harringay.

p
Glin Bridge, with no peers in the trackcraft department, had a rare ability of being able to pass on the inside or outside and win from any trap and he famously defeated British consecutive wins record holder Westpark Mustard, unbeaten throughout the entire in this country in 1974, in a showdown over Wembley's 655 metres in March, 1975.
p
Glin Bridge had an aura of invincibility in 'match' races – he comfortably accounted for Streaky Sheila (670m, Hove), Dancing Dolores (640m, Walthamstow) and Lizzies Girl (730m, White City) – and he was solely responsible for a record crowd at Rochester when thrashing Spats and Burnley in a well-publicised three-cornered event over 650 metres in a new track record.
p
Although a notch shy of the Ballyregan Bob class, Glin Bridge was the supreme six-bend champion of his era and he won the 1975 Spring Cup (660m, Wimbledon), 1975 Regency (695m, Hove), 1975 Gold Cup (655m, Wembley) and 1976 Ladbroke Golden Jacket (660m, Harringay).
p
Bonzo was a fantastic servant to the kennel in the mid-1970s and he reached a multitude of big-race finals, including the 1975 Cesarewitch, 1976 Cesarewitch, 1976 Grand Prix, 1977 Longcross Cup, 1977 Ladbroke Golden Jacket and 1977 BBC TV Trophy.
p
Fittingly, Bonzo climaxed a great career at the top level when he dethroned reigning champion Westmead Champ after a memorable buckle in the 1977 Regency final over 670 metres at Hove.
p
Bonzo's retirement in 1977 coincided with the arrival at Curtis' kennels of one of the best marathon performers to have graced the sport during the past four decades, namely Langford Dacoit.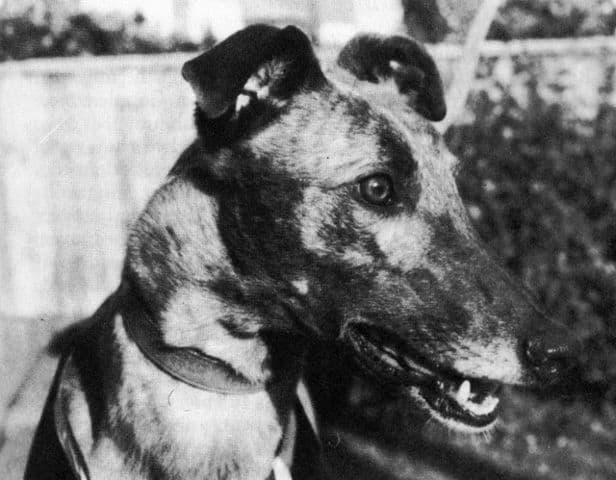 BONZO: An outstanding performer at the highest level for the George Curtis during three unforgettable seasons in 1975-1976-1977.
p
Hove 725m track record holder Langford Dacoit electrified open-race fans with big-race wins in the 1978 Chingford Marathon (820m, Walthamstow), 1978 Key (868m, Wimbledon) and Harringay Marathon (830m, Harringay).
p
Wired To Moon, one of the fastest middle-distance greyhounds of his generation, kept Curtis firmly in the spotlight when landing the 1977 Scurry Gold Cup at Slough.
p
In 1980 Maplehurst Star proved a real flag-bearer for Curtis when landing the finals of the Inaugural Stakes (490m, Wembley), Take Your Place/Tyrean Stakes (500m, Hove) and Sussex Cup (500m, Hove).
p
The following year Upland Tiger was purchased by big-spending John Houlihan, and the sky looked the limit for the January '79 son of Free Speech-Bresheen when he clocked a sizzling 29.06sec for the 500-metre course in graded company on only his second start.
p
He confirmed the promise with runaway wins in the 47th International (460m, Wimbledon), Sporting Life Juvenile Championship (460m, Wimbledon), Pedigree Petfoods Championship (500m, White City) and Harris Carpet Stakes (460m, Wimbledon).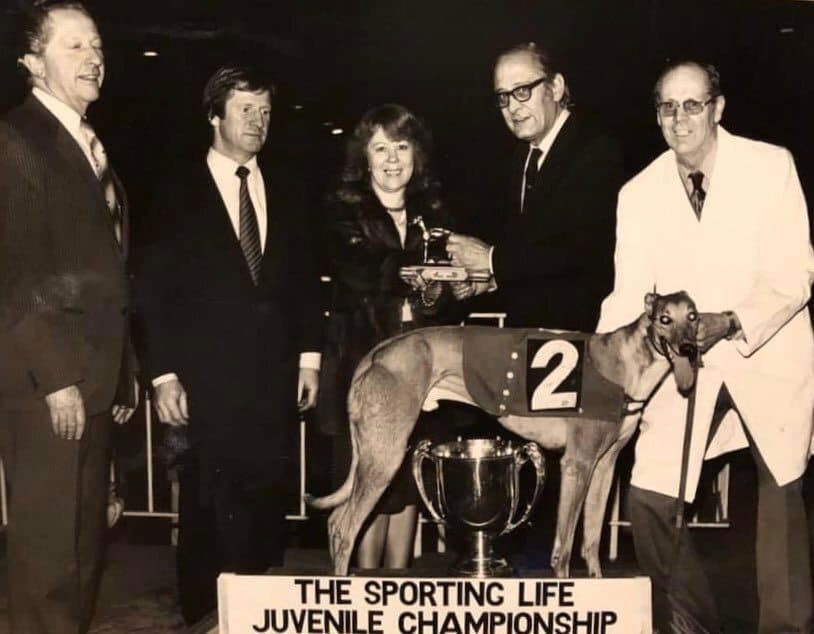 UPLAND TIGER: The brilliant winner of the 1980 Sporting Life Juvenile Championship (460 metres) atWimbledon was installed the ante-post favourite for the 1981 Greyhound Derby at White City.


p
However, Upland Tiger failed by a whisker to peg back Echo Spark in the 1981 Laurels decider over 460 metres at Wimbledon and the heartbreaking narrow defeat was cited by Curtis as the biggest disappointment of his training career.
p
Upland Tiger, one of the unluckiest greyhounds of his generation not to win a classic, won 14 of his 25 starts in this country, was the ante-post favourite for the 1982 Greyhound Derby at White City and eventually stood alongside Glin Bridge at June Saxby's Henfield kennels.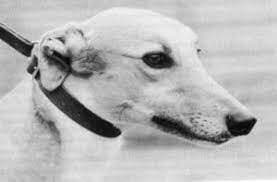 UPLAND TIGER: the top juvenile of his generation and ante-post favourite for the 1982 Greyhound Derby at White City.
p
The early-eighties coincided with two key factors in why Curtis enhanced his reputation as the finest trainer in the land – he acquired Bill Masters as head man and a breeding academy developed by Jane Hicks came to a wonderful fruition.
p
Masters, who trained Ballarue Minx to win the 1994 St Leger at Wembley, eventually succeeded Curtis when he became a fully-fledged trainer in his own right in January, 1987.
p
Hicks bred a litter that included the incomparable Yankee Express, who eventually rewrote the history books when winning the Scurry Gold Cup (1982-84) at Slough for three consecutive years and was undisputedly the most successful four-bend greyhound Curtis handled on the open-race circuit.
p
Co-owned by Bert Cusack, Ray Barnard and Sid Stenning, Yankee Express was a flying machine and also added to his impressive portfolio of big-race successes in the 1982 Sussex Cup (515m, Hove), 1983 William Hill Super Trapper (484m, Hackney) and 1983 John Power Pall Mall (475m, Harringay).
p
Curtis showed great prowess with hurdlers – Bredas Zar, Sudden Start, King Of Jazz, Tivoli Champion, Deneholme Valour, Spiral Sonny, August Monday, Sir Winston and Kilcoe Foxy were the most talented he trained in this exciting sphere of the sport.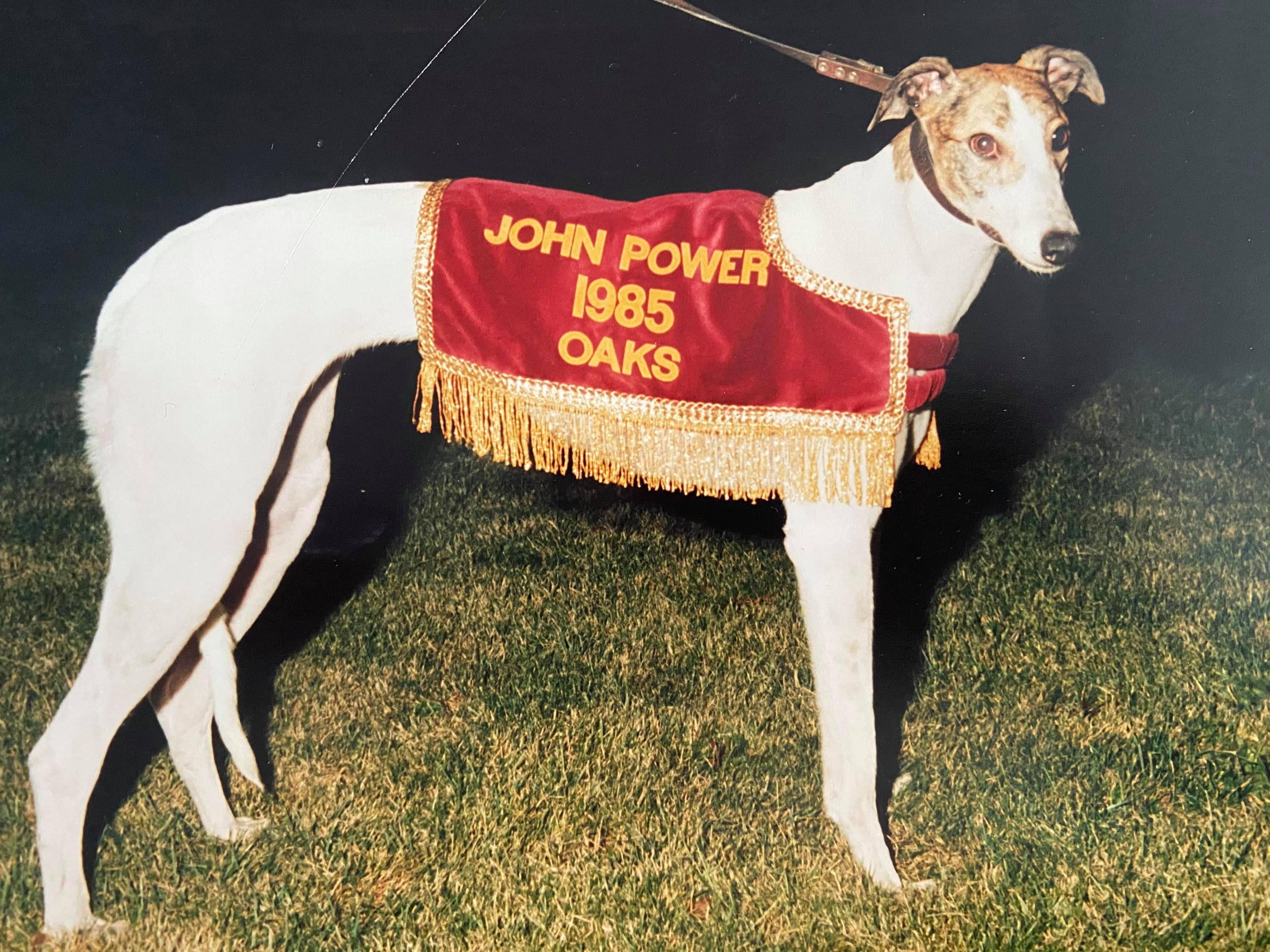 SPIRAL SONNY: One of the outstanding bitches of her generation and winner of the 1985 John Power Oaks (475 metres) at Harringay.

p
In 1983 Curtis, enjoying a phenomenal run of success, notched 177 open race wins to finish well clear of the chasing group that featured Jerry Fisher (93), Geoff De Mulder (80), Bertie Gaynor (80), Adam Jackson (80) and Linda Mullins (75).
p
Sandy Lane virtually swept the board in long-distance events, with her most important victory coming in the BBC TV Trophy (820m, Walthamstow) when the brilliant Jo's Gamble was among the vanquished.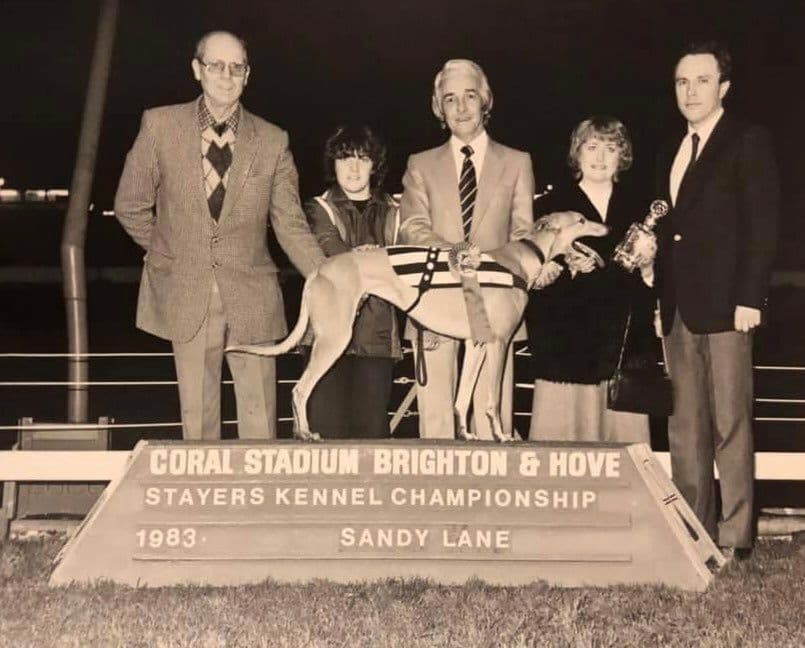 SANDY LANE: Always difficult to beat at the top level over long distances and winner of the 1983 BBC TV Trophy (820 metres) at Walthamstow.

p
Curtis, who also steered The Jolly Norman (Sussex Cup), Sammy Bear/Cashen Son (Crayford Vase) to major open-race titles, farmed the major events in 1983 and was crowned Trainer of the Year.
p
For good measure, Yankee Express collected the 1983 Greyhound of the Year accolade, Sandy Lane was the 1983 Bitch of the Year and Kings Comet, the dam of Yankee Express, was voted 1983 Brood Bitch of the Year.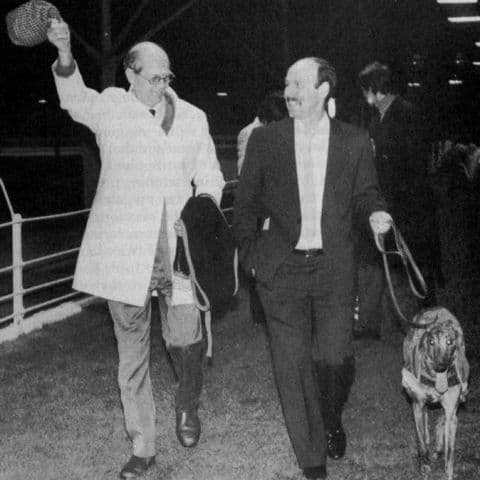 YANKEE EXPRESS: Arguably the fastest middle-distance greyhound in training of his era and he rewrote the history books by landing the Scurry Gold Cup for a record third successive year in 1984.
p
The Curtis kennel remained on cloud nine in 1984, as Blue Shirt (Coronation Cup Douglas Tyler Gold Trophy), Kilcoe Foxy (Grand National), Sandy Lane (Key), Sammy Bear (Sussex Cup) and Sunrise Sonny (Grand Prix) and Ballyregan Bob (Cosmic Orbit Young Puppies Trophy).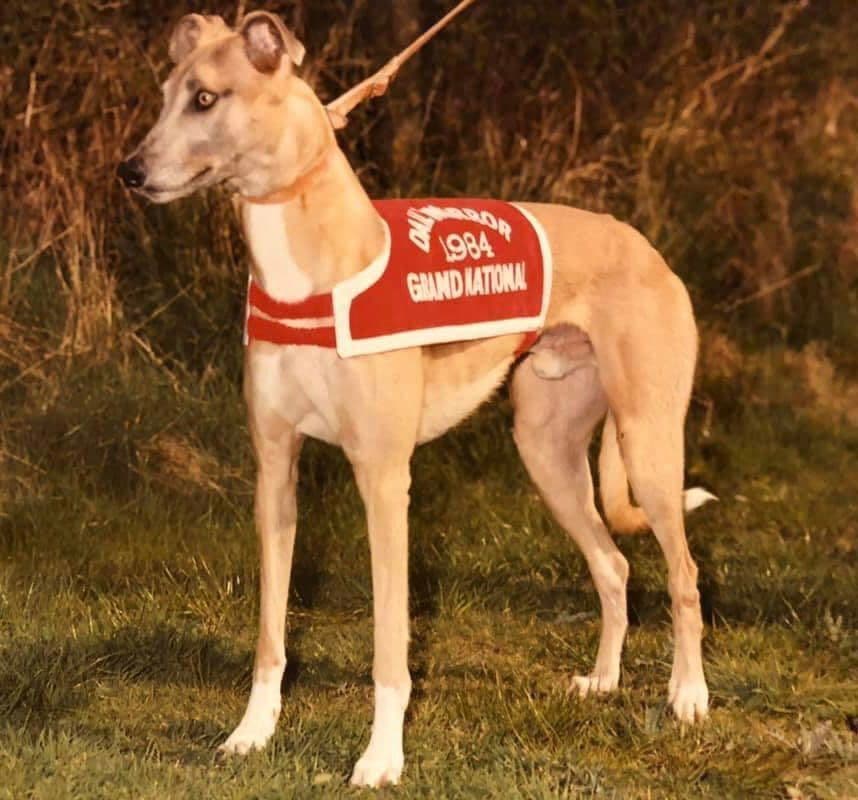 KILCOE FOXY: He justified an odds-on quote to achieve back-to-back wins for George Curtis inthe 1984 Grand National over 500 metres hurdles at White City.

p
It was another vintage year for Curtis, who streaked home in the 1984 Trainers' Championship Standings, and again fielded a Greyhound Derby finalist in the shape of The Jolly Norman.
p
Curtis also accrued 51 points – nine more than closest pursuer Jerry Fisher – to win the prestigious 1984 Trainers' Championship meeting at White City, thanks to the exploits of Cashen Son, Copper Beeches, Jondy, Karinas Pal, Kasama Trac, Shelton Song, Spiral Ponyash and The Jolly Norman.
p
The immortal Ballyregan Bob dominated the open-race scene in 1985, and Curtis achieved further classic glory at Harringay that season when pocketing the bitches' showpiece with Spiral Super.
p
Ballyregan Bob was bought by Buckingham-based businessman Cliff Kevern from friends in Ireland at 12 months old for £1,500, and quickly had promoters clamouring for his services.
p
Kevern, an enthusiastic greyhound owner and breeder for almost 50 years, raced greyhounds on the open-race circuit and at Slough from 1942 until the closure of that track in 1987, and he also owned Sirius, whom Curtis guided to fifth place behind John Silver in the 1970 Greyhound Derby final at White City.
p
His career started over 515 metres at Hove on August 25, 1984. He was favourite or joint-favourite in all his races, and odds-on in 38 of them.
p
In the most well-chronicled story in the history of the sport, Ballyregan Bob shattered or equalled 16 track records during an unprecedented complete dominance of the six-bend division and he was successful in 42 of his 48 career starts.
p
He equalled Westpark Mustard's UK record of 20 consecutive wins when easily brushing aside Scurlogue Champ, Glenowen Queen and Track Man in the £12,000 John Power Showdown (710 metres) at Wembley in December, 1985.
p
Win number 21 came ten days later over Hove's stiff 740 metres, as Ballyregan Bob spreadeagled another high-class field that also featured Disco Clipper, Glenowen Queen, Track Man, Wyoming Ivy and Lady Opinion.
p
The track career of Ballyregan Bob culminated with an historic win on home soil in front of 6,000 fans in the £2,000 Racing Post World Challenge over 695 metres on December 9, 1986, when he notched up his 32nd successive win to surpass American champion Joe Dump's world record sequence.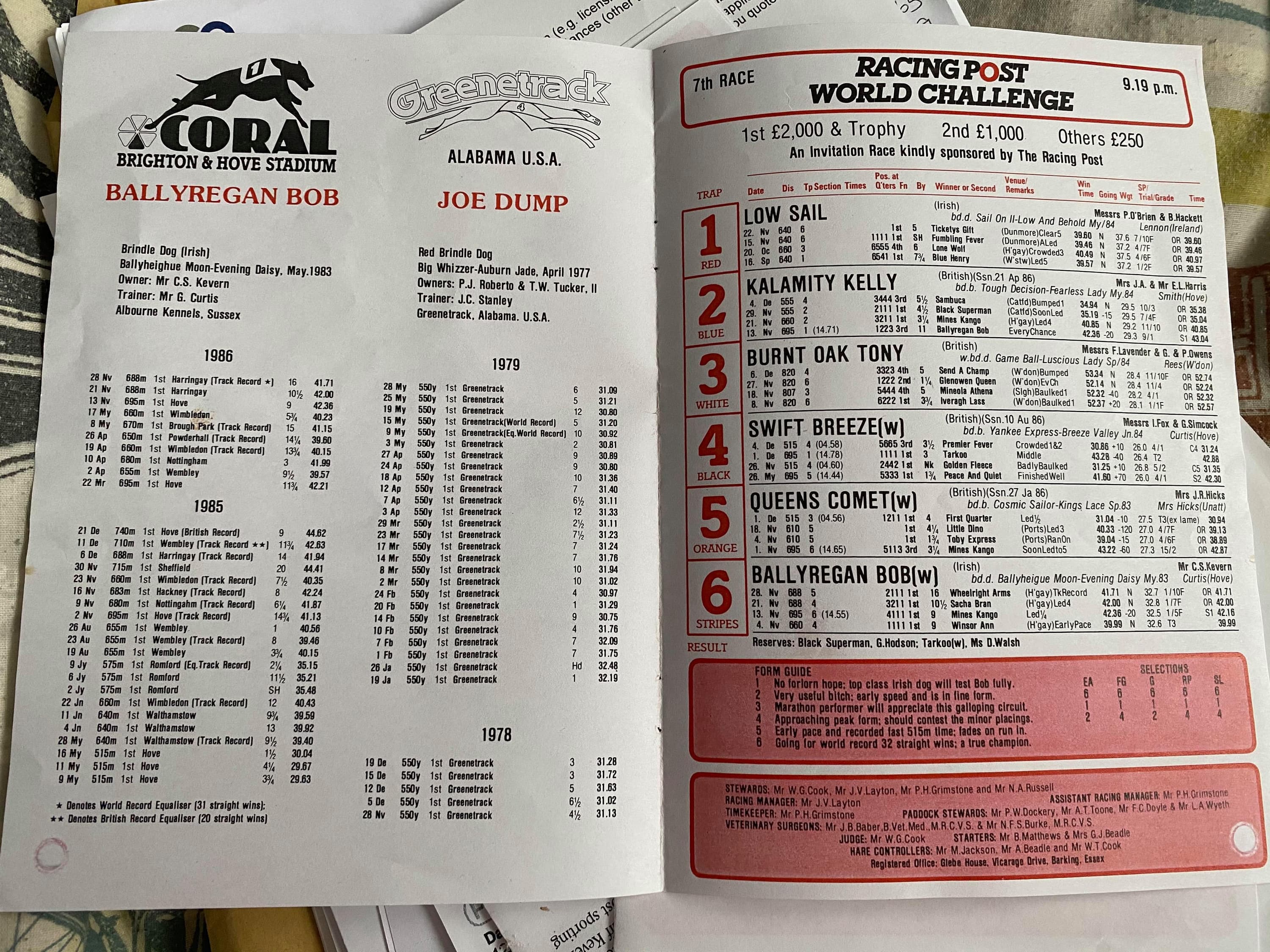 BALLYREGAN BOB: The souvenir racecard for Ballyregan Bob's history-making 32nd win in the1986 Racing Post World Challenge over 695 metres at Hove.

p
This astonishing feat, which duly earned Ballyregan Bob a place in the Guinness Book of Records, was even screened live on BBC's Nine O'Clock news.
p
As Ballyregan Bob and Curtis made their way on a lap of honour at the Nevill Road circuit, the brindled phenomenon received one of the most rapturous receptions ever witnessed in the sport - his rise from somewhat humble beginnings is akin to a tale of some piece of racing fiction.
p
There was a carnival atmosphere on the terraces – representatives from every national newspaper, together with TV cameras and video crews were trackside to capture a piece of sporting history – and the following day his achievement filled the front pages as a media blitz on a national treasure gathered pace.
p
The ballyhoo continued for weeks afterwards and Ballyregan Bob, who even travelled to Aintree racecourse to pose with triple Grand National winner Red Rum, featured on BBC's Sports Personality of the Year, Blue Peter, Saturday Superstore and Animal Roadshow.
p
Ballyregan Bob was part of the greyhound racing fraternity's every-day lives in the mid-1980s – an institution, a legend, the greatest performer in the history of the sport.
p

His hunger for success was unavailing during his final campaign in 1986 with Bert Cusack's Lone Wolf tasting St Leger glory at Wembley and Yankees Shadow landing the Cesarewitch at Belle Vue the highlights aside from the exploits of Ballyregan Bob.
p
Sterlin Beauty, owned by long-standing patron Colin Ancell, was the final runner for Curtis on a Hove racecard over 740 metres in January, 1987, before he swapped roles with head man Bill Masters.
p
Curtis, who received a special Lifetime Achievement Award from the Greyhound Writers' Association (GWA) at the Brighton Metropole Hotel in January, 2003 and was still active in the sport until around a decade ago as an assistant to Derek Knight, will be synonymous with the sport forever.
p
Sheer hard work, professionalism, dedication, unflinching honesty and enthusiasm personified the character traits of Curtis, whose name transcended the boundaries of the sport, and several generations of greyhound racing fans readily mourn the passing of one of the game's most enduring heroes.
p
It's a sure-bet that we will never see his like again…….
p
GEORGE CURTIS BIG-RACE WINS
1964 Puppy Derby 500y Wimbledon Bad Trick
1964 Puppy Oaks 500y Wimbledon Bad Trick
1965 Cobb Marathon Bowl 810y Catford Boreen Berry
1966 Cobb Marathon Bowl 810y Catford Breshan Crackers
1967 Cobb Marathon Bowl 810y Catford Tanyard Swallow
1967 Regency 725y Hove Ever Work
1970 Ladbroke Marathon Championship 900y Harringay Real Darkie
1972 The Key 880y Wimbledon Iver Flash
1973 BBC TV Trophy 880y Wimbledon Leading Pride
1973 Brighton Belle 525y Hove Miss Downpatrick
1974 The Key 900y Wimbledon Leading Pride
1975 Inaugural Sweepstakes 490m Wembley King David
1975 Courage Spring Trophy 650m Crayford Little Shrub
1975 Spring Cup 660m Wimbledon Glin Bridge
1975 Regency 670m Hove Glin Bridge
1975 George Robey Trophy 670m Hove Hitmaker
1975 Gold Cup 655m Wembley Glin Bridge
1975 Brighton Belle 500m Hove Final Flag
1975 Sussex Cup 500m Hove Abbey Glade
1975 Sussex Cup Consolation 500m Hove King David
1975 Gold Collar 555m Catford Abbey Glade
1976 Golden Jacket 660m Harringay Glin Bridge
1976 Cearns Memorial 660m Wimbledon Monalee Customer
1976 National Hurdle 500mH Hove King Of Jazz
1977 Regency 670m Hove Bonzo
1977 Digito Computer Cup 666m Ramsgate Get To Town
1977 London Weekend Television Stakes 730m White City Bonzo
1977 Red Cross Trophy 670m Hove Hunday Fred
1977 Hugh Gunning Trophy 603m Portsmouth Hunday Fred
1977 Scurry Gold Cup 434m Slough Wired To Moon
1978 William Hill Sixer 484m Hackney Wired To Moon
1978 Chingford Marathon 820m Walthamstow Langford Dacoit
1978 The Key 868m Wimbledon Langford Dacoit
1978 Harringay Marathon 830m Harringay Langford Dacoit
1979 Daily Mirror Hurdles 475mH Harringay Deneholme Valour
1979 Take Your Place/Tyrean Trophy 515m Hove Maplehurst Star
1979 Sussex Cup 500m Hove Maplehurst Star
1979 Cearns Memorial 660m Wimbledon Clountie Comment
1979 Brighton Belle 515m Hove Masslock Lady
1980 Truman Marathon 870m Crayford Corboy Champion
1981 Jack Evans Memorial Plate 610m Portsmouth Pla Point Ears
1981 Stewards Cup 695m Hove Status Quo
1981 Mecca Bookmakers Stayers Stakes 740m Hackney Corboy Champion
1981 47th International 460m Wimbledon Upland Tiger
1981 Sporting Life Juvenile Championship 460m Wimbledon Upland Tiger
1982 Super Trapper 484m Hackney Moy Athlete
1982 Pedigree Petfoods Championship 500m White City Upland Tiger
1982 FA Childs Memorial Trophy 438m Portsmouth Yankee Express
1982 Regency 740m Hove Paradise Lost
1982 GRA Stakes 730m White City Paradise Lost
1982 Cearns Memorial 660m Wimbledon Kasama Trac
1982 Scurry Gold Cup 442m Slough Yankee Express
1982 Flying Four 462m Crayford Upland Tiger
1983 Super Trapper 484m Hackney Yankee Express
1983 William Hill Lead 523m Hackney Legrand
1983 Grand National 500mH White City Sir Winston
1983 BBC TV Trophy 820m Walthamstow Sandy Lane
1983 Pall Mall 475m Harringay Yankee Express
1983 Sussex Cup 515m Hove Yankee Express
1983 The Key 868m Wimbledon Sandy Lane
1983 Dorando Marathon 962m White City Sandy Lane
1983 National Hurdle 515mH Hove Sir Winston
1983 Scurry Gold Cup 442m Slough Yankee Express
1983 Sussex Cup 515m Hove The Jolly Norman
1983 Crayford Vase 462m Crayford Sammy Bear/Cashen Son
1983 Take Your Place/Tyrean Trophy 515m Hove Blue Rover
1983 John Power Special Invitation Race 475m Walthamstow Yankee Express
1984 Coronation Cup 647m Southend Shelton Song
1984 Longcross Cup 680m White City Kasama Trac
1984 Brighton Belle 515m Hove Rushwee Pecos
1984 Mecca Bookmakers Stayers Stakes 740m Hackney Blue Shirt
1984 Doug Tyler Gold Trophy 710m Wembley Blue Shirt
1984 Grand National 500mH White City Kilcoe Foxy
1984 The Key 868m Wimbledon Sandy Lane
1984 Scurry Gold Cup 442m Slough Yankee Express
1984 Sussex Cup 515m Hove Sammy Bear
1984 Grand Prix 640m Walthamstow Sunrise Sonny
1984 Cosmic Orbit Young Puppies Trophy 515m Hove Ballyregan Bob
1984 William Hill Lead 523m Hackney Ballyregan Bob
1985 Mecca Bookmakers Stayers Stakes 740m Hackney Blue Shirt
1985 Olympic 515m Hove Ballyregan Bob
1985 The Test 640m Walthamstow Ballyregan Bob
1985 Take Your Place/Tyrean Trophy 515m Hove Tims Blackie
1985 Essex Vase 575m Romford Ballyregan Bob
1985 John Power Showdown 710m Wembley Ballyregan Bob
1985 UK Record Challenge 740m Hove Ballyregan Bob
1985 Oaks 475m Harringay Spiral Super
1986 Regency 740m Hove Yankees Shadow
1986 Take Your Place/Tyrean Trophy 515m Hove Spiral Super
1986 The Test 640m Walthamstow Lone Wolf
1986 Brighton Belle 515m Hove Soft Lips
1986 Anglo-Irish International 660m Wimbledon Ballyregan Bob
1986 Gold Cup 660m Wimbledon Lone Wolf
1986 St Leger 655m Wembley Lone Wolf
1986 The Key 868m Wimbledon Yankees Shadow
1986 Cesarewitch 853m Belle Vue Yankees Shadow
1986 Racing Post World Challenge 695m Hove Ballyregan Bob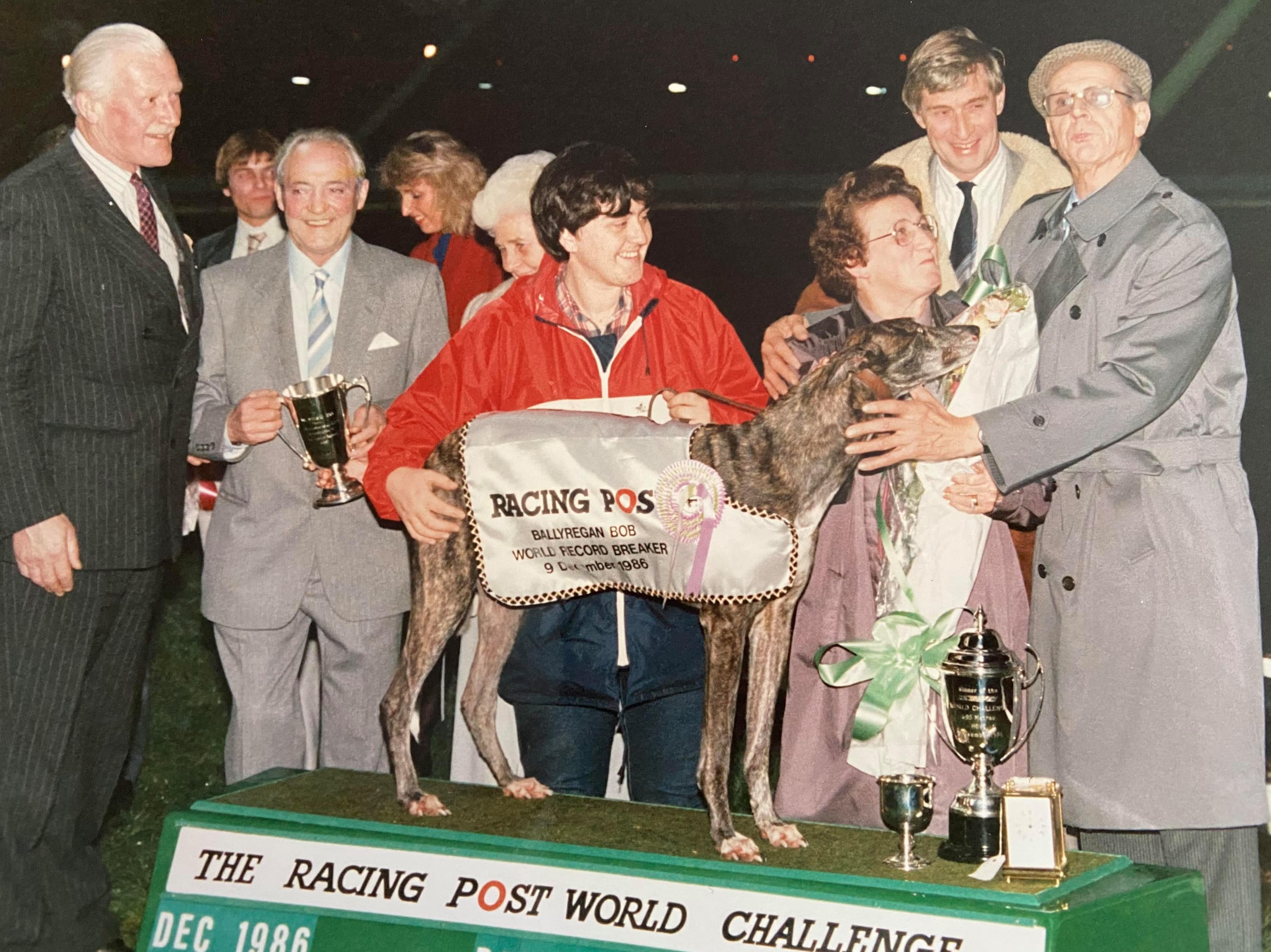 BALLYREGAN BOB: Happy scenes on the presentation podium following the fabulous win of BallyreganBob in the 1986 Racing Post World Challenge (695 metres) at Hove.