FORTY-SIX years on, the yearnings of a new generation of greyhound owners mingle with the memories of the more mature, as evergreen trainer Derek Knight celebrates yet another anniversary of his attachment to the famous 'Albourne' kennels in Henfield.

p
His longevity speaks volumes for his enduring desire to give those who support him – a loyal set of owners that alter during the passage of time - the best possible care and results for their canine heroes..
p
As the years pass more quickly than all of us would prefer Knight, now something of an elder statesman of the game, is one of the old school and certainly one of the best of the old school – his greyhounds are always immaculately turned out and he has the expertise to extract every ounce of potential from a fledgling performer right through to the veteran stage of their career.
p
Knight, whose full name is Derek David Knight, was born in Edmonton on November 6, 1950, and he has carved a distinguished record in the sport's big races during a training career that has spanned six decades and, following the retirement of Doreen Walsh in 2018, he is far and away Hove's longest-serving handler among the present incumbents.
p
"I've had a long and reasonably successful training career at Hove – if I could do it all over again I gladly would," said Knight. "The biggest change since I became a trainer in the mid-1970s is unquestionably the volume of racing."
p
Knight passed the eleven-plus (11+), a standardised examination administered to students in their last year of primary school education, though senior school life was even more than a chore for the restless Ambrose Fleming Grammar School pupil.
p
"I was by no means a model student at Grammar School – I hated it and I played 'hooky' all the time," recalled Knight. "I never really went to school in the last couple of years, so my parents advised me to get a job as quickly as possible or run the risk of getting thrown out."
p
At the tender age of ten years old Knight, in the company of his father, used to travel on the bus to Harringay on a Friday night or Walthamstow on a Saturday evening for a night out at the dogs and he very quickly got bitten by the greyhound racing bug.
p
The beginning of a professional involvement with greyhound racing for Derek Knight in 1965 dovetailed with the state funeral of Sir Winston Churchill with the largest assembly of dignitaries in the world, Julie Andrews won an Academy Award for Best Actress for her performance in the title role of Mary Poppins and Muhammad Ali knocked out Sonny Liston midway through the opening round in their World Heavyweight Boxing Championship rematch in the United States of America.
p
Knight said: "I was fifteen years old when I acquired a job as a kennelhand to White City handler Gordon Hodson at the GRA kennels in Northaw, Potters Bar, and that was the beginning of a 58-year working involvement in greyhound racing kennels – it's been a wonderful journey!"
p
Vacancy
p
In 1971 Knight accepted a vacancy to become head lad with Harringay trainer Frank Melville, who later became chief executive with the National Greyhound Racing Club (NGRC), and the a big impression he made with the GRA in his formative years prompted the company to offer him promotion with a move for a lucrative position as a fully-fledged handler at Shawfield, in Scotland.
p
"I was told there was a position available at a GRA-owned track and Randy Singleton, the legendary trainer of the 1968 Greyhound Derby winner Camira Flash, insisted that I should take up an appointment wherever the location was to provide opportunity to get a trainer's license," added Knight.
p
Knight was "very shocked" at the rapid development of his career and, after getting the nod over Richard Griffin, who subsequently became a trainer at Watford, in the interview process he took the big step to up sticks and transfer to one of the NGRC's most northerly outposts.
p
"It was an amazing experience, I was the first-ever outside trainer there and worked alongside John Doyle [Bernie Doyle's father]," said Knight. "Shawfield, whose racing manager was Bill McAllister, put on two eight-race cards per week – Thursday and Saturday – it was a very rough crowd and no attached trainer was allowed to leave the paddock and roam the terraces during a meeting."
p
His initial link to Hove was forged in the final of the 1976 National Inter-track Championship when his Pride Of Bearna represented Shawfield in a 725m contest that resulted in a 1-2 for the host-track with Pass The Buck edging Bonzo by a short-head in a classic duel between Hove's outstanding two stayers.
p
Knight, whose first winner at Hove was Next In Line in a 725-metre handicap in January, 1977, joined the Coral-owned track when there were only eight races per night throughout the year and just three other contract trainers, namely George Curtis, Gunner Smith and Doreen Walsh.
p
"Since my very first working day at Albourne in 1977 the alarm call has always been very early and I seldom start later than 6.20am," said Knight. "The dogs are put out immediately when we arrive, the kennels are thoroughly cleansed and the dogs are always given their feed at 9.00am every morning."
p
The first clue to the upward trajectory that his training career would subsequently take came courtesy of the brilliant Hove 725-metre track record holder Pass The Buck, who completed a superb eight-timer at Hove and was runner-up to Sindy's Flame in the final of World of Sport's Saturday afternoon coverage of the Ladbroke Golden Jacket (660 metres) at Harringay in February, 1977.
p
"Pass The Buck was here when I arrived to take over from the retiring Arthur Hancock and he was a really top-class stayer in his prime," said Knight. "He benefitted greatly on an all-grass surface during the winter months and, although everyone thought that he wouldn't run any other track, he ran a super race in a vintage Golden Jacket final that also included Bonzo and Montreen."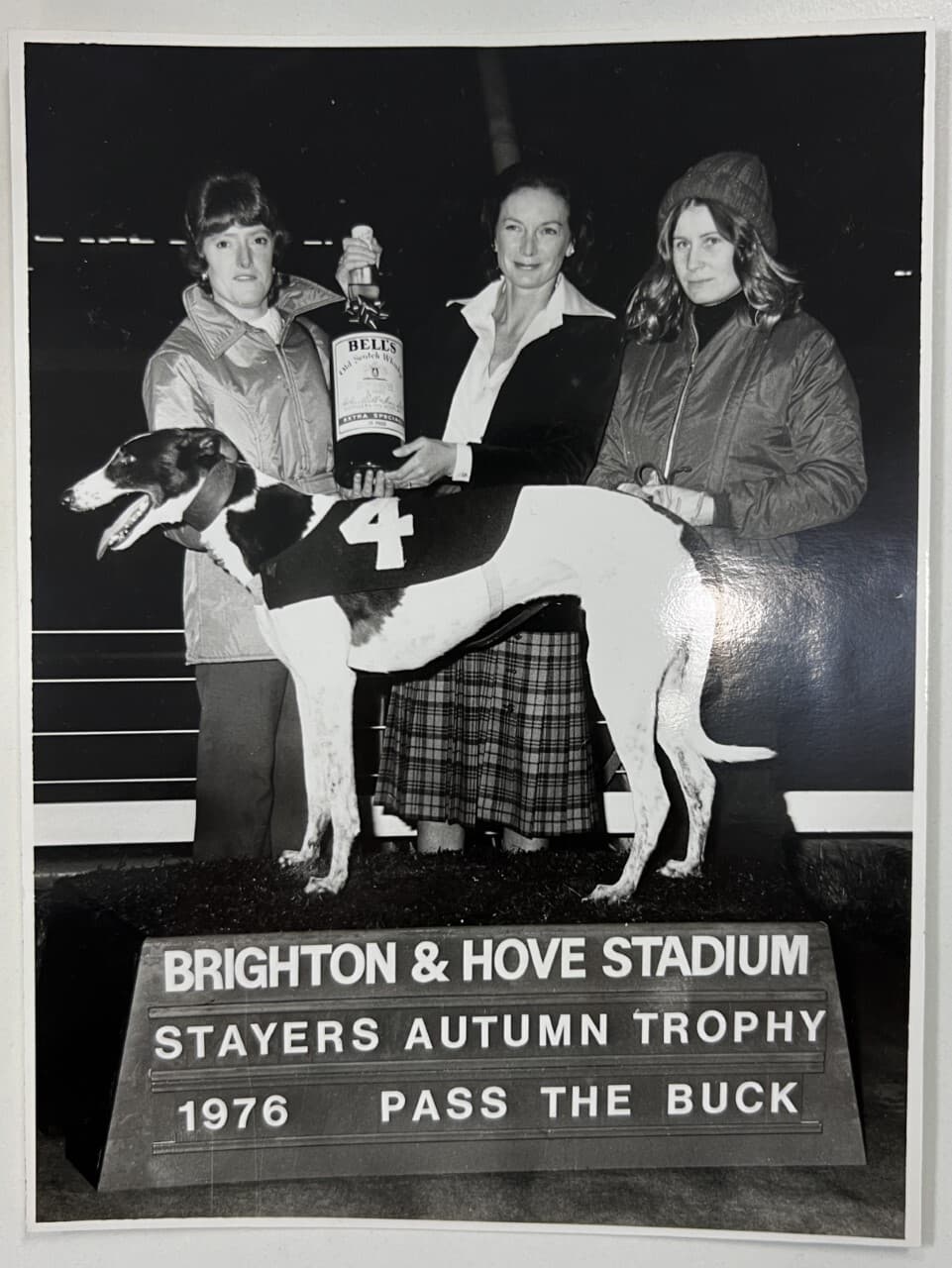 PASS THE BUCK: The first outstanding performer to be handled by Derek Knight and runner-up in the ITV-televised final of the 1977 Ladbroke Golden Jacket (660m) at Harringay.
p
Knight masterminded the respective careers of a troupe of top-class jumpers and he landed the National Hurdle at Hove on five occasions since its inception in 1976 with Fly Jetsave (1982), Scarcely Unknown (1984), Rowfold Fergus (1986), American Gypsy (1989) and Tintagel Man (1991), while other memorable hurdlers to hail from the kennel were Top Show and Ace Choice.
p
"I have always had a great affinity with hurdlers, this sphere of the sport is very popular with racegoers and I've been really lucky to train some really good ones," said Knight. "Scarcely Unknown was an exceptional hurdler, he won the Springbok, National Hurdle and also the Daily Mirror Hurdle the same day as Amazing Man won the Golden Jacket at Harringay – he was the best in my opinion."
p
He launched a powerful raid on the Greyhound Derby, the sport's blue riband, in 1983 at White City with the Victor Chandler-owned Amazing Man and Hay Maker Mack and, with a better splash of good fortune, he could so easily have engraved his name into folklore by landing the jewel in the sport's calendar.
p
Amazing Man, who justified hefty market support when scoring in the quarter-finals and then defeated eventual champion I'm Slippy after a tremendous buckle in the semi-finals, completed mistimed his break in the £25,000 decider and trailed home in sixth position.
p
"Amazing Man was a greyhound of the highest class, though he was a bit of a character and he never did much when he got to the front in a race," said Knight. "He spoilt his chance of winning the Greyhound Derby by completing another lap of the track at White City during his semi-final – the kennelhand couldn't stop him doing that at the pick-up, as the dog was very headstrong."
p
World record
Knight's Hay Maker Mack, unluckily eliminated from a trap six draw in the absence of seeding for the 1983 Greyhound Derby, made an entry into the showreel for one of the greatest-ever performances at White City when setting a new world record of 28.99sec for 500m in the Derby Consolation.
p
"I'd say Hay Maker Mack is the fastest greyhound I've trained," said Knight. "He was very unlucky not to win the 1983 Greyhound Derby at White City – a bad draw in the semi-finals robbed us of a great opportunity and it was the biggest disappointment of my training career."
p
The 1990 Oaks over Wimbledon's 480 metres proved a watershed moment in the burgeoning career of Knight, as Liberal Girl, who was owned by the Wood family – Richard [father], Daphne [mother] and Nigel [son] - delivered a first success in the most important competition in the sport that is confined to greyhound bitches.
p
"The owners were a bit eccentric, but they were lovely people and owned some outstanding greyhounds in the kennel during the 1990s," said Knight. "If memory serves, Liberal Girl had her first race in this country in the first round of the Oaks and simply kept on improving throughout the competition."
p
The form of greyhounds is not an exact science and Wuncross Double, completely ignored in the betting at 33-1, produced one of the biggest-ever upsets in a Category One event when landing the 1991 Blue Riband (490m) at Wembley.
p
The British Breeders Stakes (490m), which switched to Wembley from Harringay in 1987, fell to the locally-bred El Tiger, a product of Ballyregan Bob-Kalamity Kelly to give Knight another memorable celebration at the famous old Twin Towers in 1991.
p
The respective performances of Astrosyn Gazza (465m), Silent Missile (465m), Betty's Tiger (660m), Shelleys Daniel (465m), Liberal Girl (465m), Fryerswell Val (275m), Ballarue Hove (465m) and Integrity Boy (660m) enabled Knight to secure third spot in the 1992 Trainers' Championship fixture at Reading.
p
TRAINERS' CHAMPIONSHIP APPEARANCES FOR DEREK KNIGHT
p
1992 Trainers' Championship (Reading) scores: John McGee (55pts), Patsy Byrne (36), Derek Knight (34), John Coleman (31), Linda Mullins (28), Dickie Hawkes (24).
p
1995 (Wimbledon): John Coleman (42pts), Nick Savva (37), Derek Knight (35), Linda Mullins (30), Dave Pruhs (25), Terry Dartnall (23).
p
1996 (Hackney): Ernie Gaskin (38pts), John Coleman (35), Derek Knight (34), Linda Mullins (26), John Wileman (26), Nick Savva (17).
p
That season Integrity Boy, also owned by the Wood family, carved his name alongside some of the all-time greats when accounting for One For Shamie (second), Moon Magic (third), First Name Bart (fourth), Light Strike (fifth) and 11-10 favourite Mobile Magic (sixth) in the final of the Regency (740m) at Hove.
p
In the mid-1990s Wexford Minx, one of the most successful competition greyhounds based at Hove since the sport first went metric in 1975, contributed a huge amount in the showcase events and, in doing so, bringing great honour to her herself, her connections and Hove.
p
"She was purchased by owner Eamon Furlong, via a link with local greyhound racing enthusiast Frank Phillips, from leading Irish breeder Breda Kennedy at her New Ross range in co. Wexford," said trainer Derek Knight. "Wexford Minx hailed from a very good family and, in fact, she was a half-sister to future St Leger winner Ballarue Minx."
p
August '91 whelp Wexford Minx, a 26.5 kilo brindled bitch by 1987 Irish Champion Stakes victor Manorville Major-Ballarue Suzy, enjoyed her first major open-race triumph when continuing the trend of top-class open-race stayers by landing the 1993 Brighton Belle (515 metres) at Hove.
p
Knight, who has always adopted the policy of placing greyhounds in opens where he thought they could either win or run very well in defeat, has won the Ladbroke Golden Jacket on no fewer than five previous occasions – Amazing Man (1984), Wexford Minx (1994 & 1995), Coolmona Road (1996) and Shotgun Bullet (2018).

p
Wexford Minx, who imprinted her name on the hallowed list of winners of the Ladbroke Golden Jacket over 714 metres at Crayford in 1994, made a successful defence of her title the following year and Knight heaped praise on the staying sensation.
p
"Wexford Minx was a lovely, genuine bitch with great versatility and she was impervious to trap draws," he added. "I would unhesitatingly say that she was one of the best greyhounds that I have ever handled – we will always treasure her all-conquering feats on the track."
p
The prestigious Greenwich Cup (555m) at Catford fell to Wexford Minx, who also put up a high-class effort when runner-up to Decoy Cougar in the final of Hove's Regency over 740 metres in 1994 and Derek Knight's ace stayer made a triumphant return to the now-defunct South London venue by beating top-flight opposition in the Boxing Day Marathon (718m) at the end of the season.

p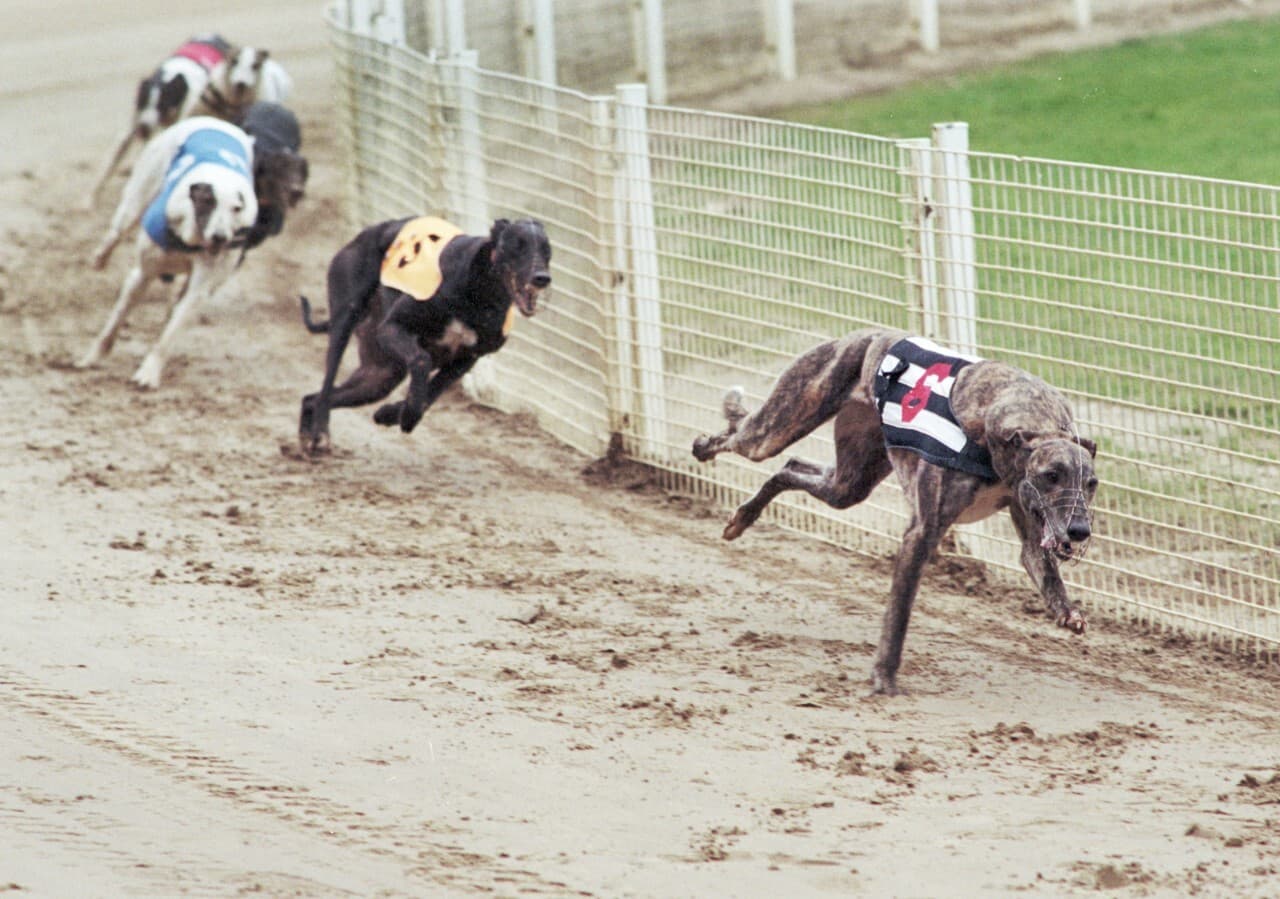 WEXFORD MINX: One of the most successful competition greyhounds based at Hove during the past 50 years and dual winner of the Category One Ladbroke Golden Jacket (714m) at Crayford.
p

One of the most talented inmates at Knight's Albourne range since 1977 is unquestionably Coolmona Road, a remarkable competition greyhound, and listed below are the big-race achievements of a performer that excelled over a wide range of distances at the top level.
p
THE BIG RACE ACHIEVEMENTS OF COOLMONA ROAD - 1995
3rd £2,000 Cearns Memorial 660m Wimbledon
3rd £5,000 Embassy Festival Stayers 663m Hall Green
2nd £3,000 Olympic 515m Hove
2nd £2,000 AR Dennis Stayers Championship 652m Hackney
2nd £3,000 Kent St Leger 640m Ramsgate
3rd £7,500 Gold Collar 555m Catford
2nd £2,500 Select Stakes 490m Wembley
1st £1,250 Boxing Day Marathon 718m Catford
p
Coolmona Road, a leading fancy in the ante-post betting, achieved the biggest success of his career when landing the final of the £10,000 Ladbroke Golden Jacket (714m) at Crayford in 1996.
p
"I rated Coolmona Road very highly indeed, he was a beautiful brindled dog with a lovely temperament and was a darling to train," said Knight. "It was one of the biggest disappointments I had when forced to declare him a non-runner for the 1994 St Leger final at Wembley – I got a lot of stick from ante-post backers, but the dog was very off-colour and their welfare always comes first."
p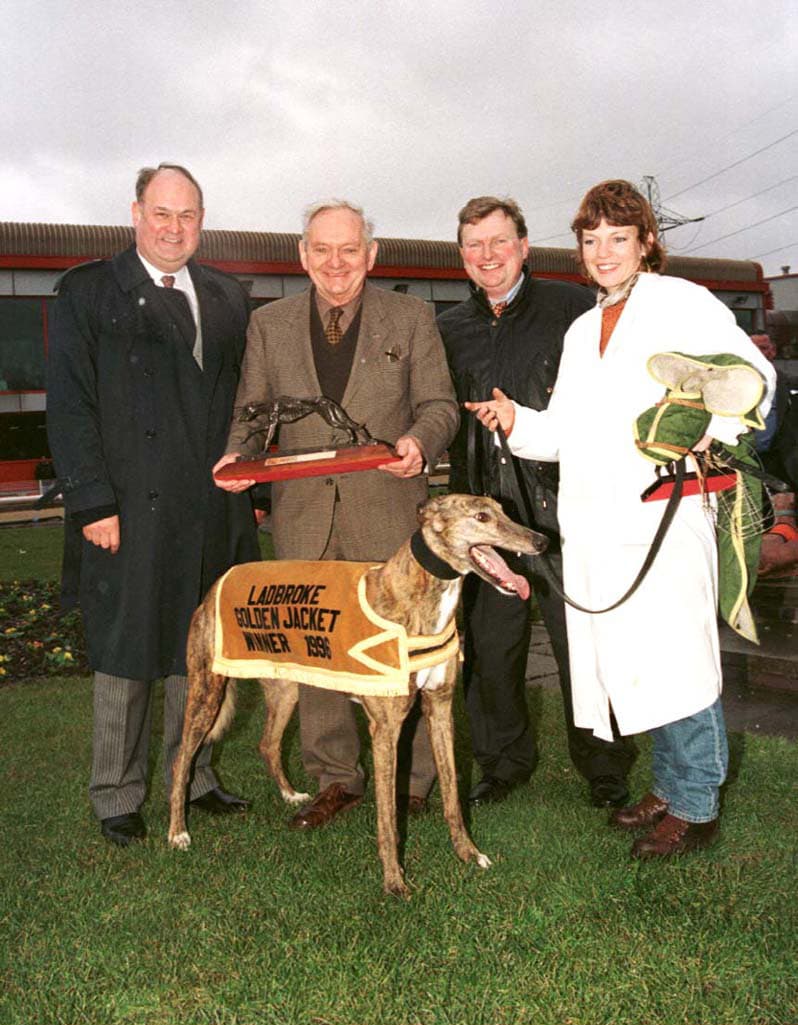 COOLMONA ROAD: The top stayer of his era provided Derek Knight with a third successive victory in the final of the 1996 Ladbroke Golden Jacket (714m) at Crayford.
p
Sir Frederick, who defeated Coolmona Road in the final of the 1995 Olympic (515m) at Hove, was another flag-bearer for the Knight kennel in open races in the mid-1990s and he showed his versatility when runner-up to the mighty Suncrest Sail in the Grand Prix (640m) at Walthamstow later that season.
p
"The kennel enjoyed fantastic success in the 1990s, though any trainer is really only as successful as the quality of the dogs in his kennel," reasoned Knight. "We've always felt that only money can buy the cream of the open racers and, if you haven't got the tools, you will find it extremely difficult to win the Category One events."
p
One of Knight's landmark achievements occurred in 1996, as Tony Hogarth's Coom Cruiser, rarely out of the frame at the top level, triumphed in the final of the £6,000 Arc (475m) at Walthamstow, while Silver Lining, owned by the Parker family, starred in the Derby Consolation (480m) at Wimbledon.
p
The Greyhound Derby has proved elusive, although Knight fielded three finalists in the shape of Amazing Man (1983), Smoking Bullet (2000/2001) and, despite Mrs Cherry failing in two successive Oaks finals, he twice landed the bitches' classic with the aforementioned Liberal Girl (1990) and Tidyplayroom bridged a 14-year gap when taking the honours in 2004.
p
Alongside former trainer Brian Clemenson, Knight was instrumental in Hove ousting Bristol and Romford to clinch back-to-back Supertrack titles at Wembley in 1995 & 1996 and greyhounds he supplied for those twin successes were Away Duke, Coolmona Road, Sir Frederick, Carriglea Jacko and Astrosyn Eureka.
p
"I've never known such an atmosphere at a greyhound meeting, there were balloons and champagne corks popping – everyone had the most wonderful night," said jubilant Hove trainer Derek Knight in the aftermath of an historic night for Coral Brighton & Hove Stadium at Wembley in 1995.

p
Unprecedented feat
Wandering One, winner of the Cearns Memorial Trophy (660m) at Wimbledon, was a big contributor to the escalating fortunes of the kennel in 1997 and he also achieved the unprecedented feat of finishing runner-up in Hove's three 'majors' – the Olympic, Regency and Sussex Cup.
p
During this annus mirabilis, when Knight was particularly competitive in the major open-race competitions, he housed a crop of top-flight performers who would have been the stars of many other kennels, notably Ard Castle, who won the Goodwood Cup at Walthamstow, Astrosyn Eulogy, who was victorious in the Harry Holmes Memorial at Sheffield, and Olympic champion Astrosyn Eureka.
p
"Open racing up and down the country is a time-consuming and expensive process, especially with the recent upsurge in fuel prices," said Knight. We don't go away for a night out nowadays, we go to win – it's as simple as that!"
p
Arguably one of Knight's finest achievements in the open-race domain was the unmatched feat of supplying the first three home in the 1998 Sussex Cup (515 metres) at Hove – Astrosyn Eulogy (first), Astrosyn Eureka (second) and Derby Train (third).

p
"Astrosyn Eulogy, owned by John Melville, was unluckily eliminated at a short price in the quarter-finals of the 1997 Greyhound Derby at Wimbledon and was second to Toms The Best in the final of the Gold Cup at Monmore a few weeks later – he was one of the fastest middle-distance greyhounds I've trained," said Knight.
p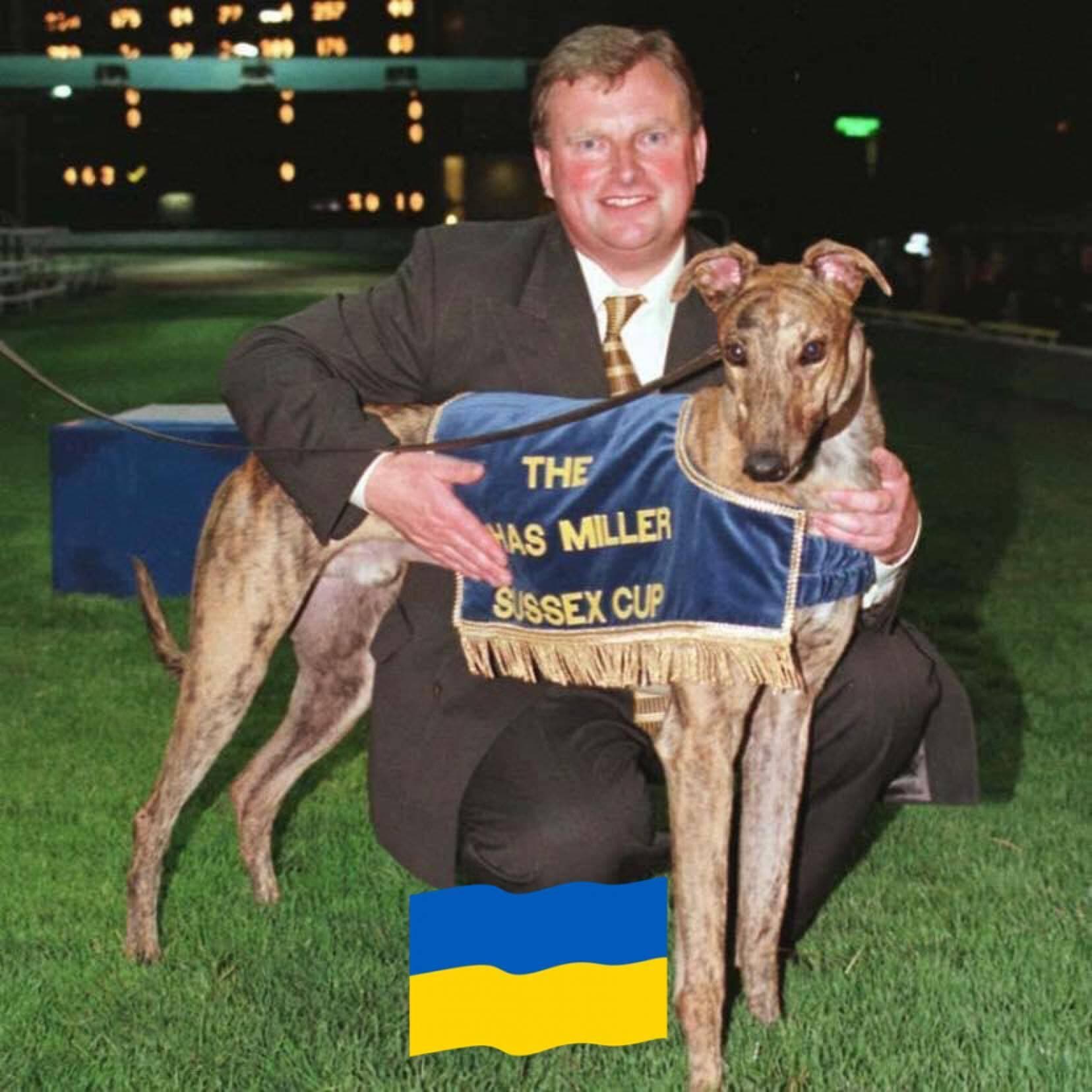 ASTROSYN EULOGY: The 1998 Sussex Cup (515m, Hove) winner is one of the fastest middle-distance greyhounds ever trained by Derek Knight.

p
The highlight of the year for Knight in 1999 came when Principal Meteor, who showed good middle pace to take command at the penultimate turn, comfortably withstood the powerful late challenge of kennelmate Wandering One by a length in the decider of the Olympic.
p
The Coral Brighton Belle (515m), which has enjoyed an uninterrupted timetable since 1973, is not renowned for providing shock results, though Knight's Danielles Minx became the longest-priced winner in the history of the competition when scoring by two-and-a-quarter lengths from Dessys Choice at odds of 14-1 in 2000.
p
The same season Smoking Bullet, co-owned by ex-footballer Vinnie Jones and John Ward, made the first of two successive appearances in the Greyhound Derby final over 480 metres at Wimbledon – he was fifth to Rapid Ranger in 2000 and then unplaced behind the reigning title-holder the following year.
p
It was a highly successful season for Knight in 2000, as he guided Smoking Bullet to twin big-race successes in the Sussex Cup (515m, Hove) and Kent Derby (480m, Central Park), while Smoking Wardy triumphed in the Olympic (515m, Hove) and Wyndham duly landed a 4-11 quote in the £1,500 Toms The Best Stayers over 695 metres around his home patch.
p
Smoking Baby, a daughter of prolific Australian sire Top Honcho, proved a money-spinning versatile performer for Knight and the Irish import made an instant impression for the kennel when scoring by five lengths from So Breezy in the decider of the NGRC Stewards Cup (640m, Walthamstow) in March, 2001
p
Twelve days later Smoking Baby slammed Mustang Susanna by five lengths in the Derek Rhodes Memorial Marathon (840m, Walthamstow) and further big-race glory during a fantastic career came for her at the Chingford Road venue in the Victor Chandler Marathon (840m) and Storetodoor Marathon (840m).
p
"There is never a dull moment in greyhound racing and I could tell you so many stories, but I will never forget an experience I had with Smoking Baby on the journey to Walthamstow for one of her open races there," laughed Knight. "The traffic was so bad one night because of a fire in the neighbouring area that I had to walk the bitch for the remaining half a mile of the journey approaching the stadium to make kenneling in time!"
p
In 2002/2003 Knight's Lozzas Dream established himself as one of the fastest middle-distance greyhounds in training courtesy of big-race successes in the £1,250 Derby Plate (480m, Wimbledon), £6,000 Sussex Cup (515m, Hove) and £3,000 Circuit (475m, Walthamstow).
p
"I have so many great memories of the top London tracks – Harringay, Walthamstow and White City – and winning big races at those venues was a dream come true for me," said Knight. "Walthamstow was a particularly lucky arena for my kennel – I loved going there with good winning chances."
p
Highly rated
At the back end of 2003 Solid Money, extremely highly rated by his trainer, emerged as a serious prospect for the Knight kennel when getting up close home to score by half-a-length from Lenson Mark in the final of the £3,500 Victor Chandler Puppy Stakes (475m) at Walthamstow.
p
In 2004 Solid Money, campaigned exclusively in opens throughout his entire career, showed his proficiency by chasing home Centour Para in the final of the £10,000 Champion Stakes (575m, Romford) prior to winning the £5,000 Cesarewitch (645m, Oxford) and £4,000 Racing Post Festival Stayers (640m, Walthamstow).
p
The following season Solid Money gave a dazzling display in the final of the £8,000 Prestige Stakes (645m, Oxford), he was third to Droopys Oasis in the £3,000 Olympic (515m, Hove) and runner-up to Clonbrin Show in the £10,000 Grand Prix (640m, Walthamstow).
"Solid Money was a great favourite in the kennel, all tracks came alike to him and he held the 575-metre track record at Romford for nearly ten years," said Knight. "He had a really good temperament and ultimately enjoyed a really happy retirement at home with myself and Maria."
P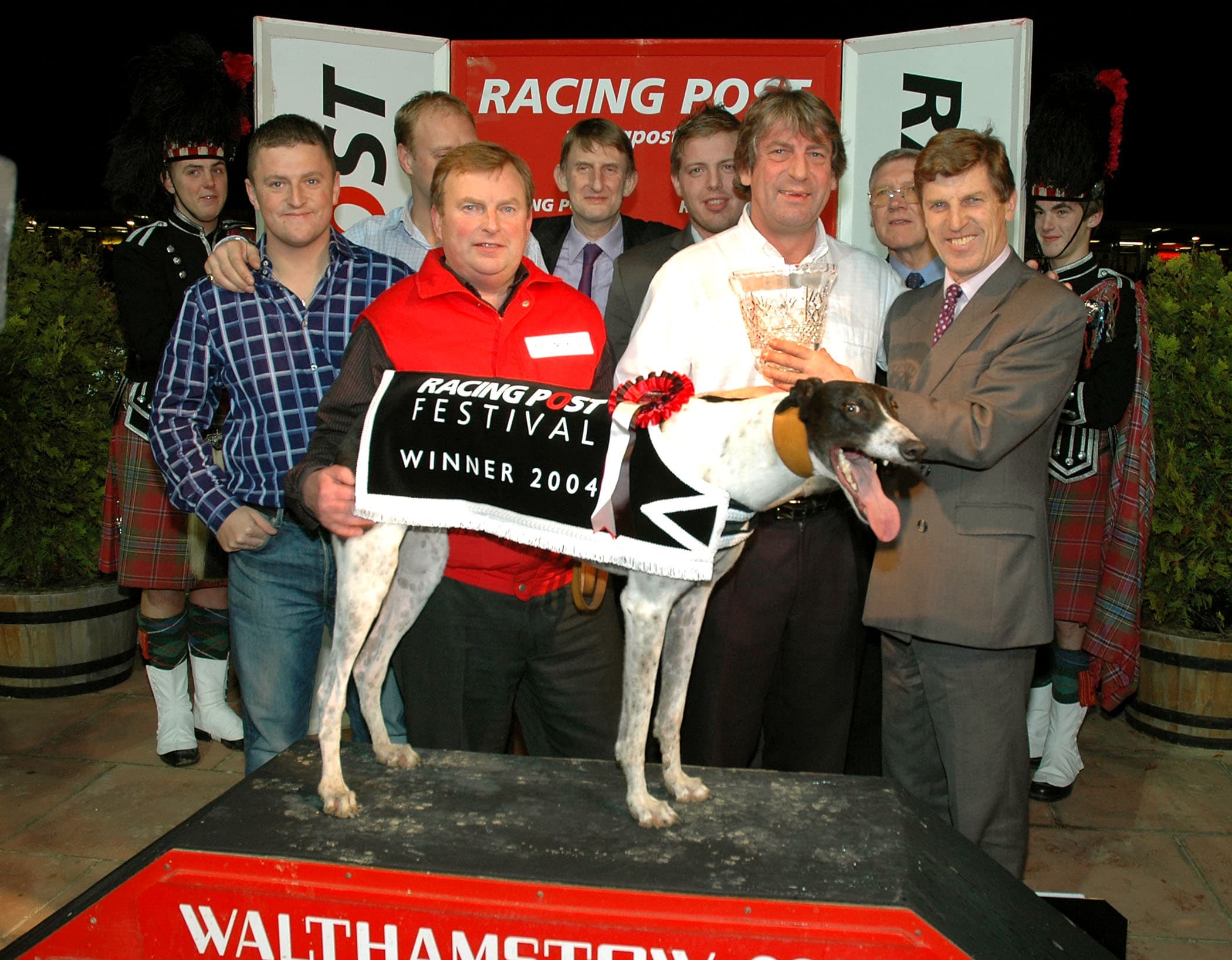 SOLID MONEY: Happy scenes at the presentation podium following a superb win in the final of the 1994 Racing Post Festival Stayers (640m) at Walthamstow.

P
In November, 2004, Tidyplayroom gave Knight a second victory in the £6,000 Oaks (480m) at Wimbledon when crossing the line ahead of One Yard (second), Shebas Magic (third), Fernglade Abby (fourth), Annes Honcho (fifth) and Miss Siren (sixth).
p
Jazz Hurricane, one of the most talented of the fairer sex ever trained by Knight, captured three major open-race titles in 2007 – the £2,000 Ladbrokes Circuit (475m, Walthamstow), £5,000 Olympic (515m, Hove) and £2,500 Roy Pook Brighton Belle (515m, Hove).
p
Foulden Special, who initially competed in lowly A7 grade over 515 metres at Hove, developed into one of the top stayers in training in 2007 and marauded unbeaten through the £15,000 Grand Prix (640 metres) at Walthamstow and there was the added gift of 11-times Champion Jockey Lester Piggott making the presentation to the winning connections.
p

"I've enjoyed some fantastic nights during a very long career as a greyhound trainer," said Knight. "I'd say that the come-from-behind of Foulden Special, who had a smashing group of owners, in the Grand Prix final at Walthamstow was the most special of them all – I also backed him at 14-1 in the ante-post betting."

P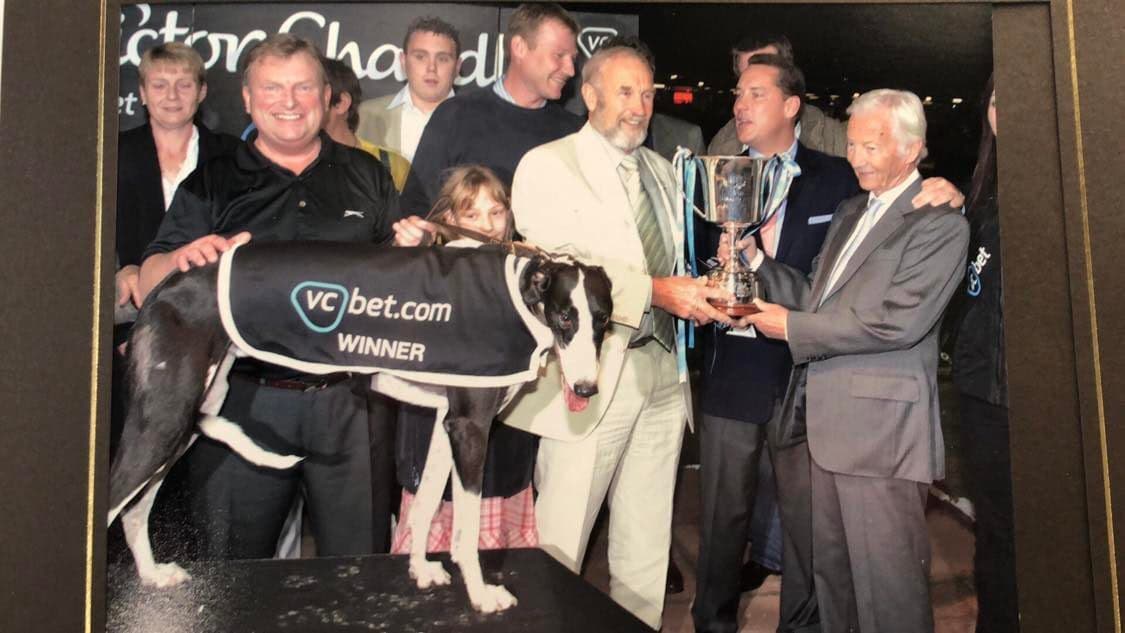 FOULDEN SPECIAL: This dour stayer gave Derek Knight "the biggest thrill of my career" when landing the 2007 Grand Prix (640m) at Walthamstow.

P

Legendary three-times champion trainer George Curtis, best-known for his association with world champion Ballyregan Bob, was employed to work alongside Knight in the kennels as an octogenarian and his guv'nor heaped praise on the great man.
p
"It was very special having George Curtis as part of our team for five years until age forced him to pack it in 2006 – he cried his eyes out when the time finally came for that decision," said Knight. "His methods were very much old school, he was very big on grooming and his experience and ability around the kennel rubbed off on myself and all of the staff."
p
In 2010 Fatboyz Zorro, who threaded a way through the field after being very slowly away from trap two, hacked up by almost eight lengths from Mountjoy Topaz in the final of the £3,000 Coronation Cup (575m) at Romford.
p
Two years later Baran Bally Hi, who later set a new track record for the 485-metre hurdles course at Coventry, poached an early advantage on his way to a near five-length defeat of Faithful Ranger in the £7,500 Grand National (480m, hurdles) at Central Park.
p
Staunch Tottenham Hotspur FC supporter Derek Knight, traditionally not adverse to having a thick bet on sports betting, scooped a "substantial amount of money" when having a large number of hefty wagers on the outcome in the twelfth series of The X Factor in 2015.
p
Essex-born Louisa Johnson, also known mononymously as Louisa, was backed down at all rates from Knight and her winner's single – Forever Young – latterly peaked at number nine on the UK Singles Chart after giving Knight the win of a lifetime in a speculative novelty bet.
p
On the subject of novelty bets, twenty-odd years ago Knight landed a "nice touch" on the winner of the Eurovision Song contest, though he freely admits that far from all of his betting transactions have been successful through the ages.
p
There are have been a plethora of great course and distance and specialists over 575 metres at Romford during the past decade – Adageo Bob is perhaps the most famous of them all – and Knight's prolific-scoring Fivestar Clipper rattled off eight consecutive wins, all at evens or less in the betting, over the intermediate six-bend trip during the early months of 2016.
p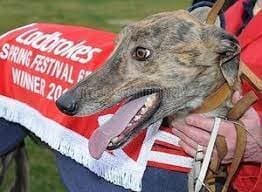 FIVESTAR CLIPPER: One of the most successful greyhounds over Romford's intermediate six-bend trip during the past decade.

p
Mossvale Ace, whose smallest winning margin in any of the three rounds was an incredible six-and-a-quarter lengths, produced a stunning series of performances when racing unbeaten through the £2,500 Bunny Bookmakers Gold Cup (550m) at Henlow in 2016.
p
"The most important thing after each individual trial or race is that the dogs come off sound," said Knight. "The subsequent loss of Mossvale Ace, one of my all-time favourite greyhounds, at Monmore was a shattering blow, as I also reared him and he was a gentleman of a greyhound – I cried all the way home in the car."
p
The stamina-laden Maireads Ivy, especially ideally suited to tight circuits, had a big affinity with Crayford and plundered the £2,500 Boxing Day Marathon (twice) over 874 metres plus the £2,500 Kent St Leger (714m) at the Ladbroke-owned venue.
P
"Maireads Ivy was a lovely bitch, though she actually had as deformed face and it was very difficult to sell her," said Knight. "Joy Rice, wife of the former Sporting Life correspondent Ian, felt sorry for her and paid only £600 pounds for her – it proved an absolute bargain."
p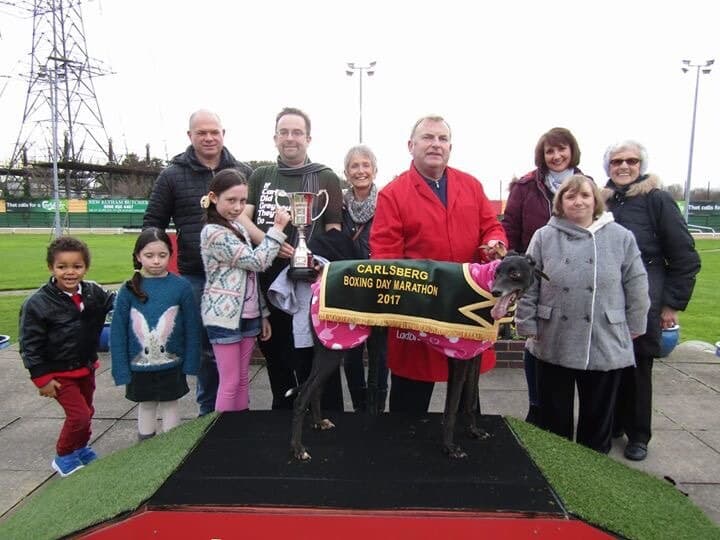 MAIREADS IVY: a flag-bearer of the Derek Knight kennel five seasons ago and happy scenes on the presentation podium following her victory in the 2017 Boxing Day Marathon (874 metres) at Crayford.

p
The first couple of months of the year in 2018 coincided with a golden harvest for Knight, as Shotgun Bullet raced unbeaten through both the £5,000 Coral Coronation Cup (575m, Romford) and £17,500 Ladbrokes Golden Jacket (714m) at Crayford.


p
Knight, responsible for well over 12,000 graded winners at 'The Showplace of Greyhound Racing' – Coral Brighton & Hove Stadium – has always been a hands-on operator and his philosophy of putting the welfare of greyhounds "above everything else" has been a key ingredient in the day-to-day running of his Albourne kennels.
p
Huge investment
"Coral have made a huge recent investment at Hove, the facilities are superb and they will surely attract decent crowds to the track in the future," said Knight, who has been ably assisted for more than thirty years by partner Maria Ansbro. "The quality of the racing can boast a rich heritage – it was, of course, the home of world champion Ballyregan Bob."

P
With the self-assurance of an astute practitioner, Knight has plundered a vast collection of major open-race titles in a sequence that began in 1978 when Elastic Band, a tight railer, opened the floodgates by capturing the prestigious Gold Vase (660m) at Harringay.
p
"You only get out what you put into a racing greyhound and a good, healthy diet plus exercise is absolutely paramount for a racer," said Knight. "They can stretch their legs in the paddocks, go for walks and a dog can keep itself fit by racing once a week – good food and a happy routine is the only way to go."
p
Between 1977 and 2022 Knight, a great fan of long-distance races, has proved himself highly adept as a trainer of stayers and he achieved notable success courtesy of the likes of Yellow Emperor, Astrosyn Trace, Easy Mark, Ballarue Dawn, Senlac Rose and Silver Glow.
p
"Greyhounds are by their nature quite lazy and they simply love sleeping in their beds," added Knight. "They have a biscuit for protein, which is swapped annually, plus chicken, beef, beef stock, vegetables and constant access to clean water."
p
In February, 2020, Coral Brighton & Hove Stadium inaugurated a 'Hall of Fame' to celebrate outstanding human or canine achievement at the 'showplace of greyhound racing' and the magnificent Wexford Minx, trained throughout her career by Derek Knight, was the latest inductee.
P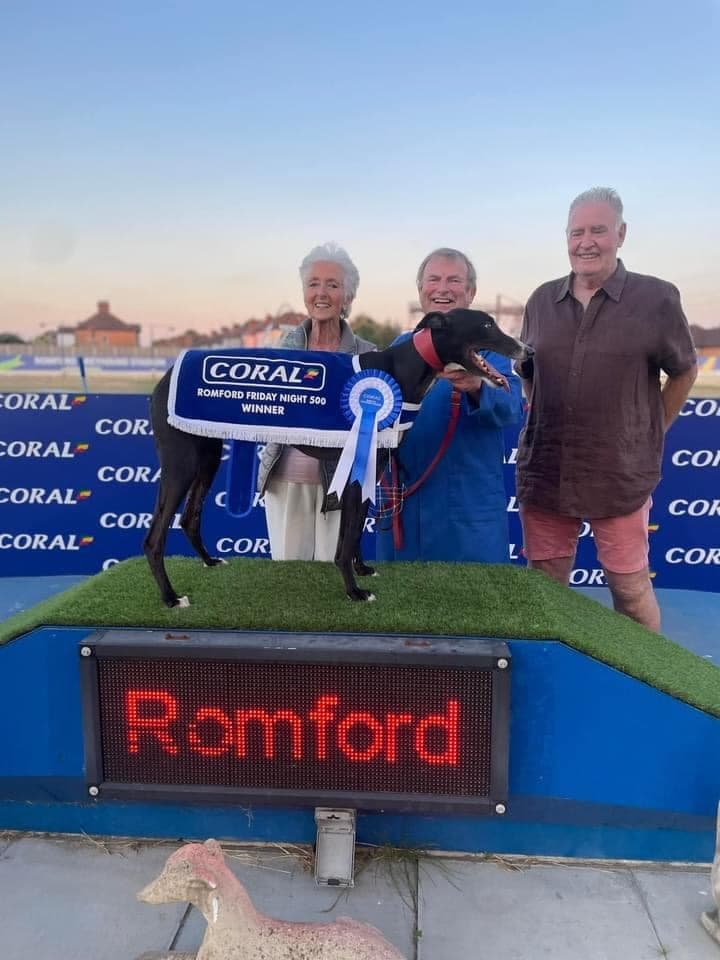 CARTER BAR: A very useful open racer and he enjoyed a glorious swansong before his retirement when winning easily over 285m at Hove.

p
For it's by his training achievements, by his skill with the breed, by his immense dedication to his profession, and above all by his genuine love of animals that Knight will ultimately be remembered by the greyhound racing fraternity, not only in the southern region, but from Brighton & Hove to as far away a destination as Shawfield in South Lanarkshire.
p
Intensely competitive, and always immaculate in attire for any of greyhound racing's glitzy occasions, Knight is, however, the best of sports when beaten in a major open-race final and he would be quick to congratulate the winning connections.
p
Behind every successful man is a good woman and Knight linked up with former Stanley Deason pupil Maria Ansbro in 1988 and, an extremely popular couple within the local community, there partnership has absolutely thrived during the intervening years.
p
"The theme within the kennels is the same as it has always been here for a very long time - very hard work and a tremendous affection for the greyhounds themselves," said Knight. "Maria has both of these qualities in abundance – she really has been fantastic in the kennel for more than thirty years."
p
Holidays are important for the hard-working team of Derek Knight and Maria Ansbro – the kennels of a greyhound trainer are open long hours seven-days-per week - and the couple cite Las Vegas and Dubai as their favourite destinations and, indeed, Maria is adamant that their location must accompany "very hot weather."
p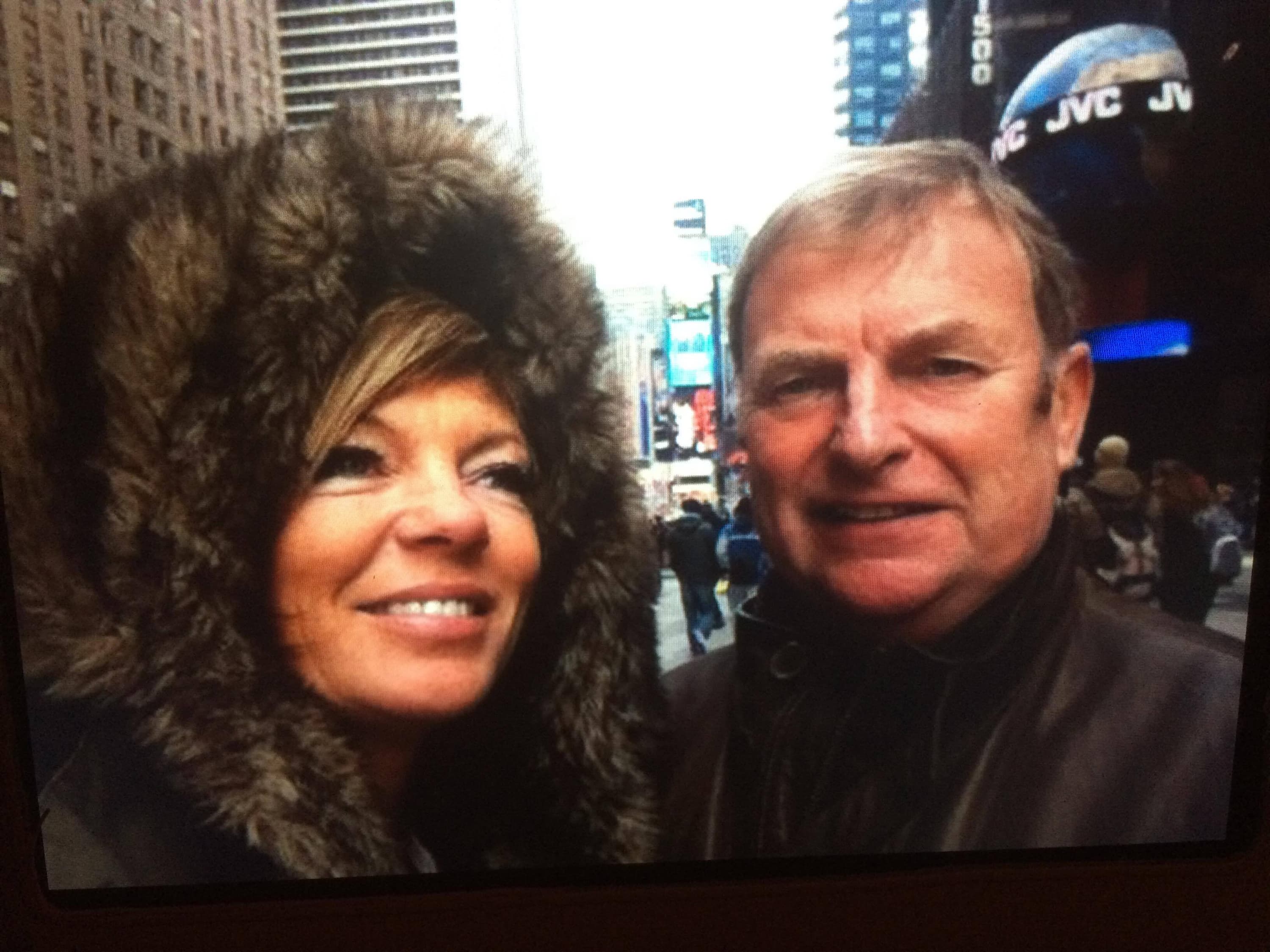 A WINNING COMBINATION: Maria Ansbro, a very popular girl in the local community, and partner Derek Knight have enjoyed some fantastic times on and off the track for more than thirty years.


p
Las Vegas
The Mon Ami Gabi Restaurant, which serves authentic French cuisine, is the "ultimate dining experience" according to Knight and has a view directly off Las Vegas Boulevard - Knight described their famous French Onion Soup as "the best of its kind you will taste anywhere in the world."
p
The 1939 David O. Selznick production Gone With The Wind – the highest-earning film at the box-office for over a quarter of a century – received ten Academy Awards from thirteen nominations and depicted one of the most famous romantic stories in the long history of the silver screen.
p
Greyhound racing, and in particular Brighton & Hove Stadium, can proudly present their own version of Rhett Butler [Clark Gable] and Scarlett O'Hara [Vivien Leigh] in the shape of Derek Knight and his soulmate Maria Ansbro – many congratulations on your fantastic service to this track and to the industry and lots of happiness for the future.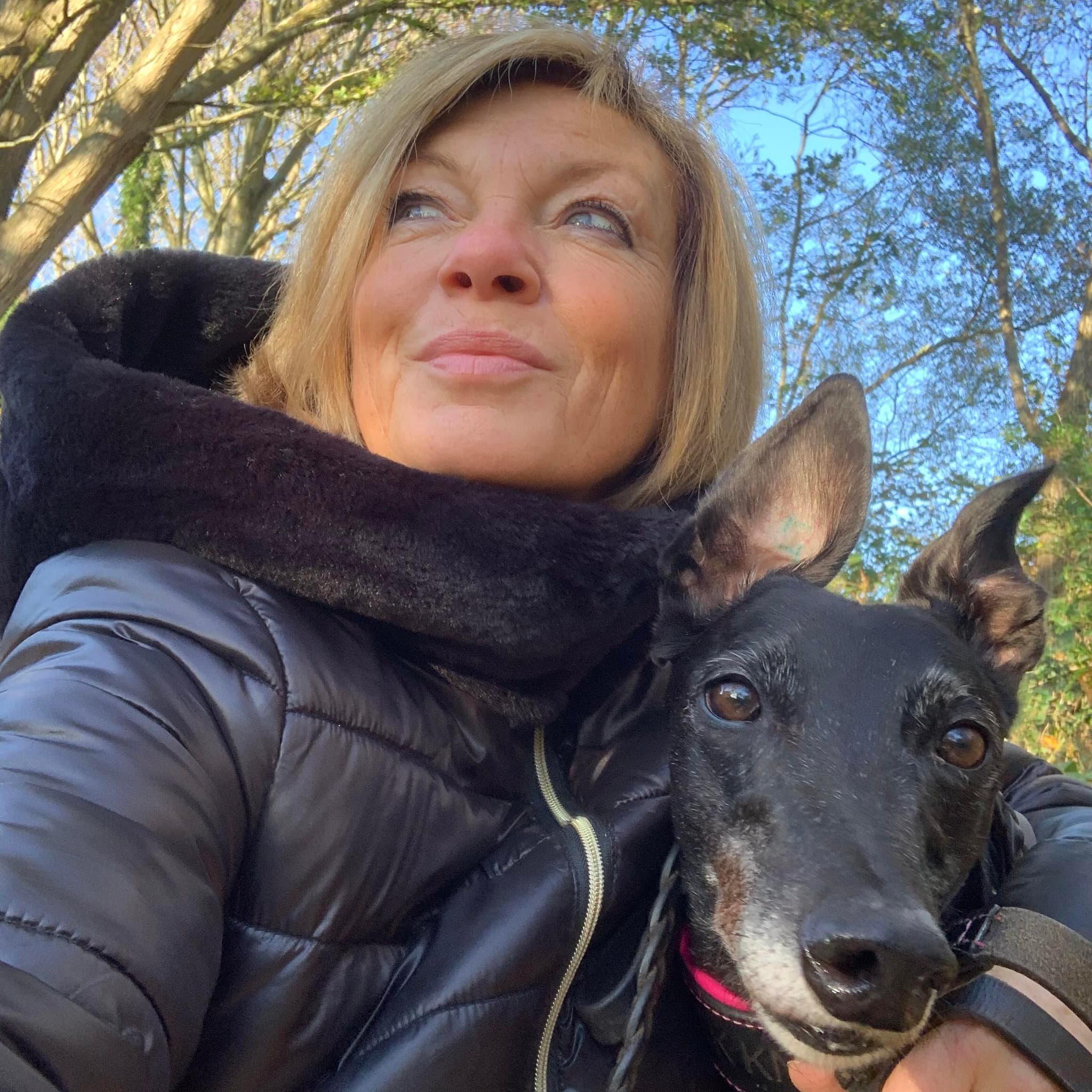 MARIA ANSBRO: The former Stanley Deason pupil has played a very important role in the Derek Knight success story since 1988 and is a very able assistant trainer.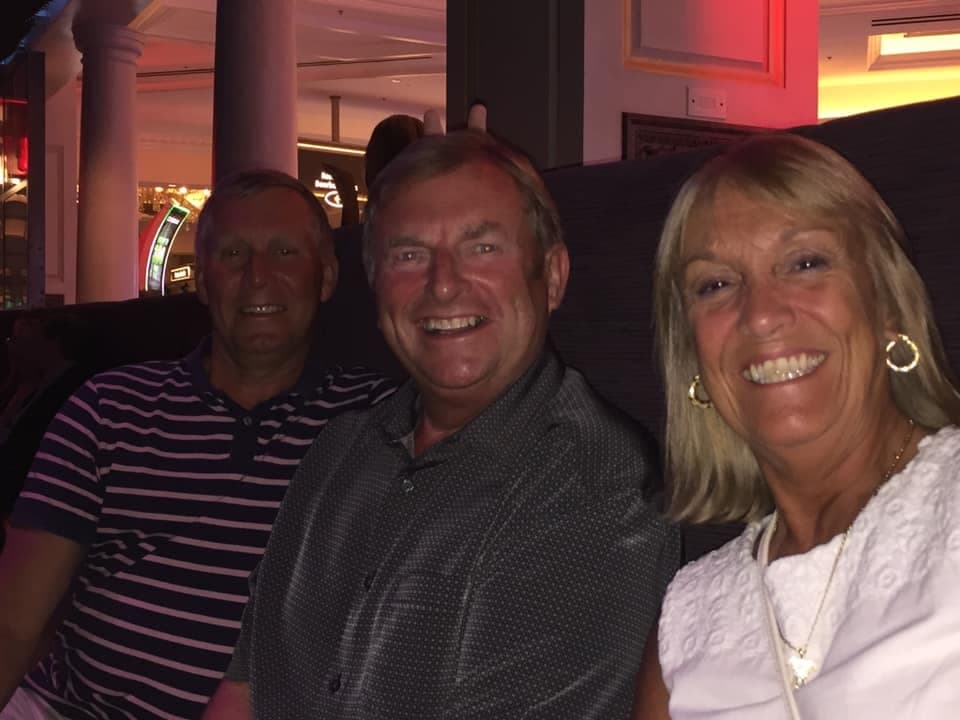 LOYAL OWNERS: Derek Knight has always had a loyal group of owners and Sid Acton and Melita Acton have enjoyed some fantastic times during their 35-year association with greyhound ownership.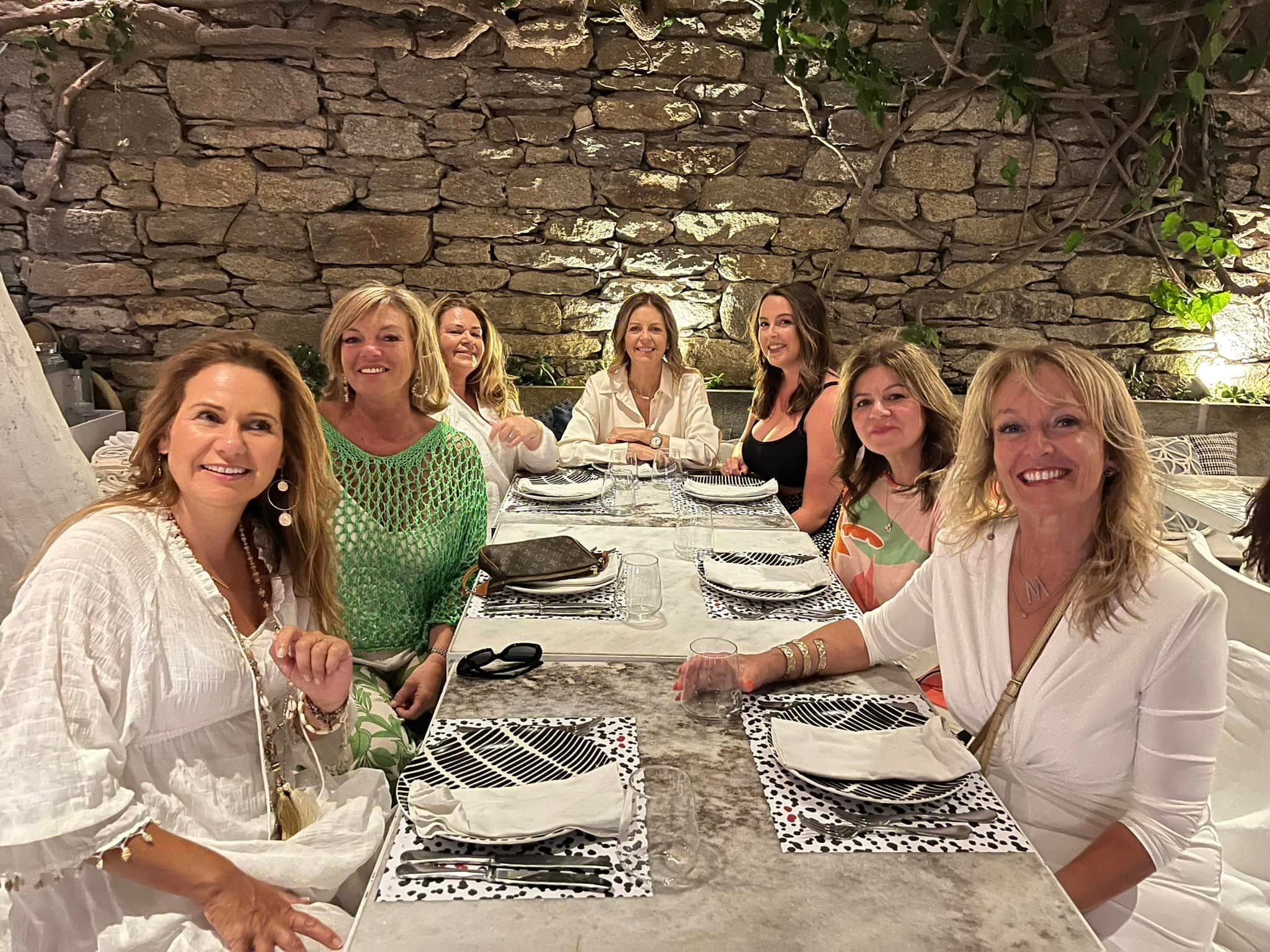 HOLIDAYS: The long hours of work in greyhound kennels demand that Maria [Ansbro] requires a well-earned break with her friends.


p

MAJOR OPEN-RACE WINS FOR DEREK KNIGHT
1978 Gold Vase Elastic Band 660m Harringay

1982 Ebor Hi Land Fly 650m Leeds
1982 National Hurdle Fly Jetsave 515m Hove
1983 Derby Consolation Hay Maker Mack 500m White City
1984 Springbok Scarcely Unknown 500m White City
1984 Daily Mirror Hurdles Scarcely Unknown 475m Harringay
1984 Ladbroke Golden Jacket Amazing Man 660m Harringay
1984 National Hurdle Scarcely Unknown 515m Hove
1985 William Hill Lead Gabriel Andy 523m Hackney
1986 National Hurdle Rowfold Fergus 515m Hove
1989 National Hurdle American Gypsy 515m Hove
1990 Oaks Liberal Girl 460m Wimbledon
1991 Blue Riband Wuncross Double 490m Wembley
1991 National Hurdle Tintagel Man 515m Hove
1991 Produce Stakes El Tigre 490m Wembley
1991 Greenwich Cup Liberal Girl 555m Catford
1991 Wingspares Stayers Stakes Ballarue Dawn 695m Hove
1992 Regency Integrity Boy 740m Hove
1992 Triumph Hurdle Top Show 575m Romford
1993 Brighton Belle Wexford Minx 515m Hove
1993 Crayford Vase Ballarue Hove 540m Crayford
1994 Fosters Gold Cup Island Doe 660m Wimbledon
1994 Ladbroke Golden Jacket Wexford Minx 714m Crayford
1994 Holt Marathon Senlac Rose 820m Walthamstow
1994 Greenwich Cup Wexford Minx 555m Catford
1994 Boxing Day Marathon Wexford Minx 718m Crayford
1995 Ladbroke Golden Jacket Wexford Minx 714m Crayford
1995 Olympic Sir Frederick 515m Hove
1995 National Hurdle Ace Choice 515m Hove
1995 Ballyregan Bob Memorial Coolmona Road 695m Hove
1995 Boxing Day Marathon Coolmona Road 718m Catford
1996 Ladbroke Golden Jacket Coolmona Road 714m Crayford
1996 Arc Coom Cruiser 475m Walthamstow
1996 Moaning Lad Stakes Silver Lining 480m Wimbledon
1997 Cearns Memorial Wandering One 660m Wimbledon
1997 Goodwood Cup Ard Castle 475m Walthamstow
1997 Olympic Astrosyn Eureka 515m Hove
1997 Harry Holmes Memorial Astrosyn Eulogy 500m Sheffield
1998 Sussex Cup Astrosyn Eulogy 515m Hove
1999 Olympic Principal Meteor 515m Hove
2000 Olympic Smoking Wardy 515m Hove
2000 Brighton Belle Danielles Minx 515m Hove
2000 Sussex Cup Smoking Bullet 515m Hove
2000 Kent Derby Smoking Bullet 480m Central Park
2000 Toms The Best Stayers Wyndham 695m Hove
2001 Derrick Rhodes Marathon Smoking Baby 840m Walthamstow
2001 Global Marathon Smoking Baby 840m Walthamstow
2001 Stewards Cup Smoking Baby 640m Walthamstow
2002 Derby Plate Lozzas Dream 515m Hove
2002 Sussex Cup Lozzas Dream 515m Hove
2002 Victor Chandler Marathon Smoking Baby 840m Walthamstow
2002 Stow Marathon Smoking Baby 840m Walthamstow
2003 Circuit Lozzas Dream 475m Walthamstow
2003 VC Puppy Stakes Solid Money 475m Walthamstow
2004 Cesarewitch Solid Money 645m Oxford
2004 Oaks Tidyplayroom 480m Wimbledon
2004 Racing Post Festival Stayers Solid Money 640m Walthamstow
2005 Prestige Stakes Solid Money 645m Hall Green
2007 Olympic Jazz Hurricane 515m Hove
2007 Brighton Belle Jazz Hurricane 515m Hove
2007 Circuit Jazz Hurricane 475m Walthamstow
2007 Grand Prix Foulden Special 640m Walthamstow
2008 Coral Sprint Patsbackbar 285m Hove
2010 Coronation Cup Fatboyz Zorro 575m Romford
2012 Grand National Baran Bally Hi 480m Central Park
2016 Gold Cup Mossvale Ace 550m Henlow
2016 Boxing Day Marathon Maireads Ivy 874m Crayford
2017 Kent St Leger Maireads Ivy 714m Crayford
2017 Boxing Day Marathon Maireads Ivy 874m Crayford
2018 Coronation Cup Shotgun Bullet 575m Romford
2018 Ladbroke Golden Jacket Shotgun Bullet 714m Crayford